By Nichola Ansbro, contact centre manager, officekitten.co.uk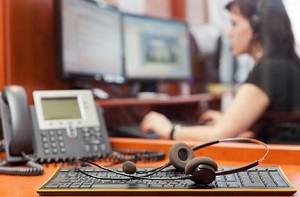 In this age of WhatsApp and Facebook Messenger, it seems natural that companies should also run live chat on their websites as a quicker and easier way for customers to interact and get answers.
For customers, live chat is the best of both worlds – we all dread phoning call centres because we don't want to sit in a queue for 15 minutes before speaking to someone. We expect instant answers. Web chat is discrete as well, so if you're making that inquiry in work, nobody's listening to you complain that your utility bill is too expensive.
Those organisations which do run live chat find it hugely popular with customers – however, if it's something you're considering, there are a few things to get in place first:
Know what you are getting into.
A common misconception is that introducing live chat will reduce the volumes of calls or emails you receive. Unfortunately, this has proven to have no effect on those numbers, you won't move customer contact from one medium to another, you are just allowing more people to get in touch.
Our savvy online customers have used live chat before on other sites and, once they find something they like, that's how they want to contact all of their suppliers. So while you don't have a case to introduce it if you're thinking of cutting the costs of answering calls or emails, you do need to accept that the demand is there.
Live chat can take three times longer than a call to deal with – which can be good if you are expecting your team to handle two or three live chats at the same time. It's not so good though if they are trying to do this around calls or something fast-paced, so you really need to plan the team properly if you want to make a success of live chat.
Train your team well.
For any team member who is going to be working with live chat, place a massive emphasis on spelling and grammar. Big problems can occur with live chat if team members are in such a rush to answer the customer, they don't take the time to proofread like they do with emails, they hit return and boom! – it's gone to the customer.
Other disadvantages are the chat handler and customer can both type at the same time, so it can be frustrating on both sides if questions go unanswered or replies are missed. We tell our team to wait their turn to type, it will be clear on most occasions when the customer has finished their comment.
Tone of voice is critical too – while it may feel informal and you are inclined to reply in shorter sentences than an email or more like you would while speaking, your team are still representing your company. Text speak or slang is a big no-no when it comes to live chat.
From the point of view of good customer service, you shouldn't put limitations on your team to handle any type of enquiry. including a live chat. They need to be able to adapt to the customer so the pressure of having to resolve a query in a set time totally negates that.
Live chat can't solve every query.
Live chat handlers may choose to move from a live chat to a call if they don't seem to be understanding each other, perhaps an earlier reply or question was missed as the chat handler and customer were typing over each other.
Team members should also be aware of when the customer is becoming frustrated or  angry – remember, it's hard to convey tone in written word and if the person reading a reply was already angry because something had gone wrong, they could easily misinterpret what is being relayed. We tell our team to use their intuition and know when to pick up the phone, explain the situation calmly and win the customer back round.
If a customer wants the link to the correct page on your site for something or you have discussed a return and are sending them their return details, using live chat is good as the customer then has a hard copy to refer back to if needs be or can copy and paste what you have sent.
However, if the customer is trying a troubleshooting procedure or trying to perform  maintenance on a piece of equipment, it can be smoother to call. If the customer is unsure, your reassurance can mean a lot over the phone.
Know how to spot a time-waster.
We have real work to do and customers to help, so it's very boring when people use live chat for a 'laugh'. As much fun as it was the first time a customer got us to guess song lyrics, the joke very quickly wore thin. Yes, this really happened, so your team members need to be able to spot these people quickly and know how to professionally terminate the conversation.
However, these are few and far between. The frequency live chat is used tells us that customers like it – mostly for its convenience.
It's not an intrusive as a call, but it's quicker than an email. Ultimately though, it's like all forms of customer contact – it's only successful if the staff you employ are using it properly.
Nichola Ansbro is the Contact Centre Manager of officekitten.co.uk, supplier of office stationery and office supplies.