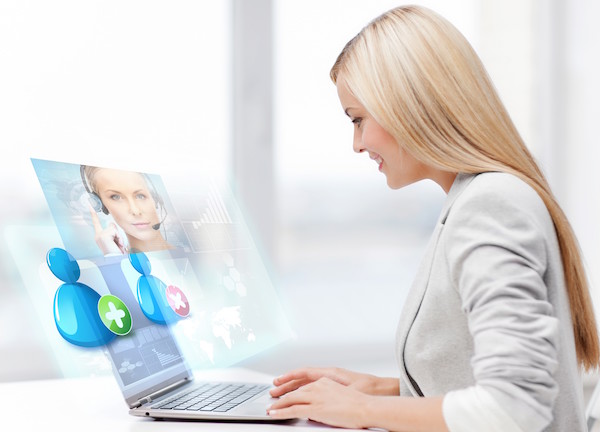 One of the most important aspects of any business is employee productivity. While increased productivity is something that many businesses strive for, it is not always achieved. The BBC has reported that one in five UK workers admit to never working to the best of their ability at work. In addition, respondents to the same survey by a leading tech firm thought that only 68% of their colleagues were good at their jobs.
Productivity should be a concern for all businesses, as it directly impacts on the business and its performance. Low productivity has been linked to disengaged staff, employee absences, retention issues, poor company culture and low profitability.
As you would expect, improved productivity combats all of these issues, leading to increased efficiency, reduced costs and higher business growth.
Flipping the switch.
Investing in technology is one of the best ways to maximise productivity. Devices and software have a big impact on the ability of your employees to carry out their work. Outdated tools and devices can leave staff frustrated and unable to complete tasks as efficiently as they would like. It can often leave employees feeling as though they are tied down.
But investing in new, up-to-date technology can turn this around. One of the benefits of modern technology is that it can improve communication for your business. Effective communication is essential in the workplace. Poor communication hinders productivity, and can arise as a result of using old business phone systems.
However, streamlining communications tends to lead to improved communication. By streamlining communications, your business can make all communication tools easily accessible in a single interface, saving time and maximising productivity. It also helps to ensure that all your employees stay connected.
A hosted phone system could allow you to streamline communication. With a hosted phone system, your business can benefit from cost savings, with no ongoing maintenance charges, low-cost calls and the ability to connect different business sites to one system, no matter where your sites are located.
Such a phone system also allows your business to achieve unified communications, integrate mobiles and other devices to one system, and ensure scalability as your business grows. These features not only provide you with control over your entire communications, but also assist greatly in maximising employee productivity.
Stay connected – wherever you are.
With a hosted phone system such as Gamma Horizon, calls can be answered even when you are away from your desk, meaning you never miss a call.
Given the evident desire among many for flexible working – as reported by Personnel Today – you may be interested in adapting to what could be your own employees' preference for working outside the office. Flexible working schedules support employee engagement, positive morale and good retention rates, often leading to increased productivity.
A hosted phone system is perfect for flexible working, as multiple devices can be integrated, meaning employees can still complete work, whether at home or in the office. Interoperability is also improved, as staff can switch from devices effortlessly.
Taking control.
Streamlining communication with a hosted phone system gives you greater control over your communications. Hosted phone systems with features such as advanced management reporting allow you to analyse all aspects of your calls, including who you receive calls from and how they are being handled.
Access to this kind of data could be vital if your business is to pinpoint potential inefficiencies, improve on good practices, develop its customer service offering and become more effective in its operations. With a hosted phone system, your business can boost its performance and make continuous improvements, maximising productivity.