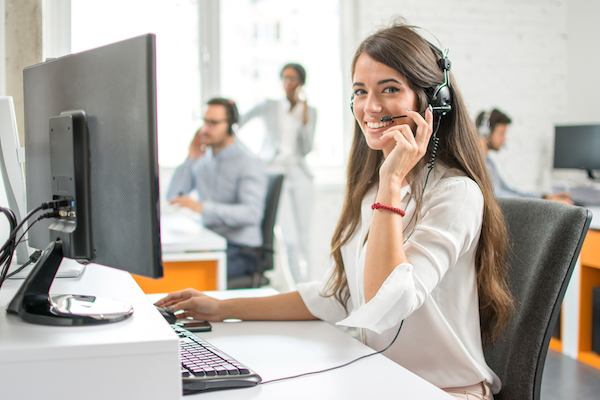 by Reilly Nolan, Content Marketing Manager, Webex by Cisco
Voice over Internet Protocol (VoIP) technology is the evolution of outdated PBX (Private Branch Exchange) calling, allowing phone calls to take place over an internet connection. The benefits of adopting a VoIP phone system are big, and it starts with your business's bottom line.
Here, we'll break down the difference between VoIP and more traditional solutions while exploring how the technology can improve business outcomes altogether through:
Better employee and customer experiences
Reduced cost and complexity
Seamless cloud migration paths
Support for a flexible, extensible solution
How is VoIP an improvement over legacy systems?
VoIP phone systems offer advanced features and modern flexibility that PBX simply can't match. And adopting VoIP can yield tangible results for your company, including:
1. Easy deployment, onboarding and maintenance.
Cloud-hosted VoIP solutions eliminates the need for on-premises PBX hardware. So, adopting cloud-hosted VoIP mitigates all of the associated maintenance and management of that hardware. This ultimately leads to less of a need for internal IT to troubleshoot and amend issues. With that saved time and budget, businesses can focus less on upkeep and more on productivity.
2. Better call quality.
Another benefit of moving to a cloud-hosted VoIP phone system are the advanced features a business can take advantage of. Advances in AI for collaboration have led to much better call quality for fully cloud-hosted VoIP phone systems. From background noise removal and audio intelligence to personalized voice optimization settings, call quality is taken to a whole new level, which means less distractions for remote and hybrid workers and less interruptions for any size call.
2. Advanced functionality and features that are always up to date.
Landlines are limited to a single function: voice. With VoIP, users can communicate in real time with voice or video calls, and keep software stay up to date thanks to the cloud—among a myriad of other functionalities.
The best VoIP phone systems include a single dashboard to manage users and onboard new team members. Plus, you eliminate the headaches of PBX installation, since you can port over existing lines or create new lines without external help.
3. Built-in security that protects sensitive data.
Thanks to additional layers of encryption like Transport Layer Security (TLS), VoIP offers built-in call and data protection that's better at guarding sensitive information than landline phone systems.
4. Improved collaboration.
With an increasing number of professionals working in a hybrid environment, employee availability and their ability to connect to each other is essential. Leading VoIP providers can deliver elite features to make team collaboration smoother in these cases. For example, the ability to elevate a VoIP call into a full video conference with ease. Or the ability to use a personal mobile phone with the native phone dialer when on-the-go and transition to any other device without leaving the call. And of course, teams need full-featured communication capabilities—instant messaging, group chats, file and screen sharing, and breakout calls.
How a cloud VoIP phone system can improve your business's bottom line
The improvements that VoIP makes over legacy PBX systems will help your business's bottom line. Here's how:
1. Reduced capital costs.
Without the need for additional hardware or service packages, VoIP is far more affordable than landline calling. It's not unusual for traditional private branch exchange (PBX) systems to cost upwards of $1,000 per user. On average, VoIP systems come in at a much lower cost per user, usually somewhere around $20 per user, per month.
2. Scalability for evolving workplaces.
Without the need for additional hardware, and the only requirement being an internet connection, VoIP is much easier to scale as IT personnel are able to add additional lines and numbers with ease, all in one dashboard. This gives VoIP a clear business advantage over traditional PBX.
3. Supporting flexible work environments.
VoIP empowers businesses to lean fully into hybrid work. With the right tools, employees can work more easily from home and with less trouble than outdated communication tools. With that, VoIP can have a material impact on efficiency of your business by providing streamlined communication to all employees, no matter where they're working from.
4. Easier management and administration, and reduced IT costs.
Another key benefit of VoIP technology is how much easier it is to manage for your IT department. Typical VoIP solutions feature a centralized platform for administration. This empowers IT admins to monitor call performance for the entire phone system and every user from a single dashboard. From optimizing call quality and bandwidth utilization to easily adding users, this feature makes life easier for your entire IT team.
Key takeaways
VoIP enables better experiences for employees and customers across the board while being more affordable, reliable, and flexible than legacy PBX technology. Its benefits far outweigh those offered by traditional landlines. And, it's incredibly easy to move away from a PBX system to cloud-based VoIP. Whether taking a phased approach or moving completely to the cloud, businesses can significantly cut costs, simplify management for IT, and make work easier for every department.
Reilly Nolan, Content Marketing Manager, Webex by Cisco has more than 10 years of experience across the technology, healthcare, interior design, consumer goods, and fashion industries. Unpacking the human aspect of the product experience is what informs his writing most. In his spare time, Reilly has published and shortlisted fiction in a variety of national literary magazines.