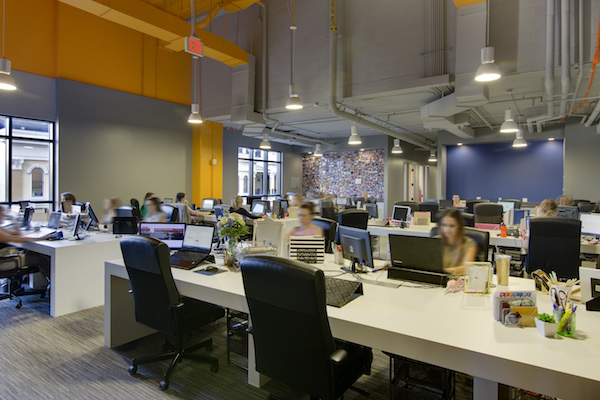 Finding a suitable working environment for your startup or small business depends on your needs as a whole. Many companies are working remotely at the moment and if your business is based largely online this could be your most convenient option.
However, if you do need a real location either to meet clients or perform your services, you will need to consider leasing or buying commercial property. There are also flexible alternatives available such as co-working space and short-term leases, so you can avoid investing in a more permanent option.
Here are some examples of popular workspace solutions for startups and small businesses.
1. Commercial real estate.
If you have the funds and are ready to invest you could consider buying commercial real estate. This is more of a necessity for small businesses that don't operate online. If you run a business in the beauty or catering industry, for example, you'll need the right space and equipment to serve your customers. Before you invest in commercial property you'll need to take several factors into consideration. First and foremost, your funding. Look into mortgage options and schemes in place to help small businesses buy real estate. Speak to a mortgage or business advisor to find the most suitable solution for you.
2. Leasing office space.
There are pros and cons of leasing vs. buying office space. If you don't have the resources, leasing space is the next logical choice. Leasing office space, for example, can be done on a short-term basis. If you are leasing entire premises such as a salon or store, you will also need to factor in other costs such as utilities and taxes. It depends on the type of business you run. Leasing workspace will at least give the opportunity to meet clients in person and provide the best service, even if it's on a temporary basis. As your business grows you can then consider investing in property.
3. Virtual address.
If your startup is based online you could still benefit from a virtual address service. This is a good option if you're comfortable working remotely. A virtual address allows you to register a physical location for your business where you can also receive postage. You can even choose a prestigious address for your business to make a better impression on your clients. Some virtual address services also offer virtual assistants and use of office space when needed. It's best to shop around and find the best deal according to your specific business needs.
4. Co-working spaces.
Another popular option nowadays is renting co-working space. There are many benefits of co-working spaces. They're ideal if you're looking for somewhere to work on a specific project temporarily or to meet a client on occasion. Co-working spaces can be shared or you may be able to rent a private desk or office depending on availability. Co-working can bring you many opportunities. You'll have the chance to network with other businesses and meet people. If your team is working from home, renting an office or co-working space will also give you access to better equipment in a more ergonomic setting.
5. Business incubator programs.
Business incubator programs are usually set up by universities and other institutions to help encourage young entrepreneurs. You'll have to do your research into different programs to find out if you qualify. Part of the deal is often free co-working space, however. You'll get somewhere to start out and you can move on to a more permanent location once you begin to grow your business. Here are some examples of the best incubators for startups. 
6. Remote working.
Location isn't exactly one of the key fundamentals of starting an online business. If you're able to operate completely remotely, why not save your budget for something else? Many businesses are run entirely from home and with employees in multiple locations. This is only an option if you don't provide in-person service, however. If you're aiming to sell handmade products or offer online services, remote working is probably the most cost-effective solution. You will have to factor in providing the best equipment and tools to your team. If your resources are limited you could also consider outsourcing different departments to save on overheads.
The most suitable workspace solution you choose for your company really depends on the kind of business you run. You also need to factor in your budget and where you plan to be in the future. By outlining your business goals you'll be able to find the right workspace for you.