Is it Time For Outsourced Accounting?
by Scott Anderson, Small Business Services Partner-in-Charge at Sensiba San Filippo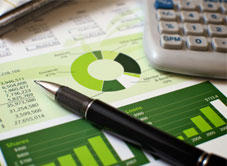 If you're the leader of a growing organization, you probably understand the need to set aside your strategic priorities for the sake of day-to-day tasks. You understand that many daily duties simply need to get done, and more often than not, that means little to no time for strategic visions. With time, resource and personnel limitations, you may be finding that you and your team are forced to take an "all hands on deck" approach to your daily activities — struggling to complete the bare necessities of keeping the business afloat. Sound familiar? While the situation may seem inescapable, it's important to realize that when your daily responsibilities begin to supersede strategic priorities, both you and your business can quickly lose momentum.
The ability to make informed strategic decisions can separate thriving organizations from stagnating businesses. Informed decisions require having the right information at the right time. Accurate and up-to-date financial information can be a very powerful tool, yet gathering, organizing and interpreting that information can also very quickly become a distraction from your strategic priorities. How do smart business owners get the information they need without getting distracted? How can you get powerful financial information into your hands without slowing down your business?
For many businesses, outsourced accounting can be the right solution. As a business owner, it is imperative to know when it is the right time to outsource your accounting and finance needs. Here are six steps to help you transform your financial accounting from a burden to a benefit.
1. Determine if financial accounting is driving or draining value within your organization.
If you frequently find yourself rushing to put together financial reports, managing time consuming bookkeeping tasks or making decisions without the right financial information, it is time to look for additional accounting help. Accounting should not slow you down or distract you from the activities that truly drive the value of your business.
2. Evaluate internal and external solutions.
If your accounting resources are not bringing value to your organization, you need to make a change. You can hire or change internal accounting personnel or you can outsource your accounting function. The right answer for your company will depend on your needs, budget and available options. Hiring an internal bookkeeper can be a great solution if you can find the perfect candidate — one that has the exact skill set that you need, is willing to work the precise number of hours that you require and requests a wage that fits squarely within your budget.
You may require a higher skill level. Advanced skills include the ability to bring new ideas and efficiencies, develop budgets and forecasts, adept analysis and reporting, and the flexibility to grow with the needs of your organization. In this case, outsourced accounting can be the solution.
3. Identify the right time for a change.
When it comes to outsourced accounting, timing really is everything. There are some easy to recognize clues that can dictate when the time is right to outsource. For example, if you need more technical skills than the receptionist, office manager or part-time bookkeeper can provide. Maybe a bank or investor group is looking for a level of financial sophistication that you don't currently have. The right outsourced accounting solution can help you get set up and prepared. If you have had multiple failures trying to hire a qualified full-time bookkeeper, you are probably spending more time, money and effort to get the right solution than you should be. Outsourced accounting can even fill a temporary role, like when your bookkeeper is on leave for several months. If you are experiencing any of these scenarios, now would be the right time to outsource.
4. Explore available outsourced solutions.
Once you determine that outsourced accounting is a viable alternative, you will want to find the solution that best fits your current and future needs. It is important to know that not every outsourced accounting solution is created equal. Solutions range from minimally trained bookkeepers best suited for data entry, to sophisticated business service firms that offer industry focused teams, custom financial reporting, bookkeeping, payroll, accounting technology and tax planning services. Your needs will determine the right solution for your company. If you are a growing company with expanding financial needs, an experienced business service team can provide the high-level assistance you require.
5. Select the right outsourced accounting partner.
Your outsourced accounting partner should have the experience to proactively bring new ideas and value to your organization. Look for a partner that leverages the latest technology and tools to keep themselves efficient and you informed. Look for an accounting provider that has familiarity with your industry and has the resources of a full-service accounting firm. Firms that specialize in outsourced accounting for small and midsized businesses are generally the best equipped to bring value.
Make sure to obtain referrals and check references, as not all providers deliver what they promise. Ask other business owners who they use for their outsourced bookkeeping services. Talk to references about what they like best and least about their outside bookkeepers, and don't forget that this relationship should be evaluated at least once a year. Needs change, and the right provider can change as well.
6. Invest in a plan and a relationship.
Once you have selected a partner to help with your accounting, focus on building a value added relationship that will be continuously evaluated and modified to meet your changing needs. A good provider will invest the time to get to know your company and your needs before they implement a solution. Your adviser should help you improve both your processes and your financial information. With the right plan, you will transform your financial accounting into a value driving resource for your entire organization.
Financial accounting should drive value within your organization. It should efficiently provide you with the information that you need to make the right strategic decisions. If your financial accounting solution isn't bringing value, consider a change to outsourced accounting. If you have questions about outsourced accounting or want to learn more about how it can help your business, please reach out to one of our experts at 925.271.8700 or at info@ssfllp.com.
Scott Anderson is the Small Business Services Partner-in-Charge at Sensiba San Filippo. He assists small business owners with making sound business decisions with solid financial data. You can reach Scott at 408.286.7780 or sanderson@ssfllp.com.

This is an article contributed to Young Upstarts and published or republished here with permission. All rights of this work belong to the authors named in the article above.