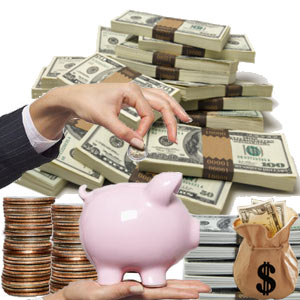 With regards to the business industry, money makes the world go around. It is the lifeblood that ensures success and prevents failure. So, when it comes to your business' cash, you need to know it is safe at all times. Problems can occur that will put the security of your money at risk. When and if they do happen, you need a backup plan or several backup plans.
Here are the ways that you can make sure you money is safe no matter the situation:
#1: Don't Deal With Dodgy Clients.
Every time you make a transaction with someone you don't trust, you are putting your money at risk. Okay, the might not be able to access your accounts and steal money directly from your bank, but they can refuse payment.
And, there are people out there in the business sector that will try and take advantage wherever possible. Obviously, the more you work and don't get paid, the more debt you will incur. Any time that a client doesn't pay up, never hesitate. Refuse to provide them with your services unless they pay you the money they owe.
#2: Split Bank Accounts.
Any business with more than £85,000 should consider splitting the amount of bank accounts they use. You are probably asking why, and here's your answer. In the United Kingdom, one bank will only pay out £85,000 even if they lose your money, and it isn't your fault. That means that anything more than £85,000 is at risk. By splitting bank accounts, you can secure a lot more of your business' finance. Who knows, you might even be able to secure every single penny!
#3: Buy Insurance.
For all you lucky devils that cannot secure all of their money with the above method, you need something more substantial. The only method that will secure a lot of cash is insurance. When you take out insurance, you can secure all of your business' funds and not have to worry about it even if there is a disaster. As long as you adhere to the rules of the agreement and pay the policy, your money will be as safe as houses.
#4: Use Affiliates.
There are professionals that will help you take care of your money. They are usually known as affiliates because they are partners who offer secure services and advice. Baydonhill is a prime example and one you may want to consider for the future. They offer online account services and international payment services, which covers every base. When you are in partnership with a team of professionals, you are a lot more secure.
#5: Pay With PayPal.
Paying clients the money you owe them over the Internet is not always a safe way of making a transaction. There are hackers who can intercept the transaction and steal sensitive data and a lot of money. Thankfully, PayPal is a great solution because it is incredibly secure.
Your money counts, so it is vital that you always keep it safe.