by Joe Levi, founder of Student Money Saver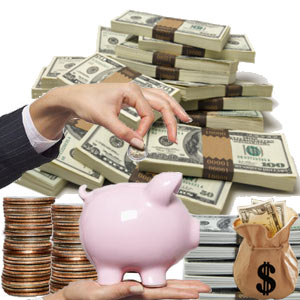 Being a student, living off your loan and (if you're lucky) financial help from your parents, can be difficult, stressful, and require some resourcefulness.
Follow these 10 top tips to save cash on everyday shopping and bills.
1. Sort out your budget.
If your money seems to tumble out of your account as quickly as it goes in, tracking it is one of the best ways of making sense of it. Set yourself a weekly or monthly budget, by identifying your income sources and where you tend to spend. Allocate certain amounts to food, your phone bill, socialising, etc., and try to stick to these as much as you can. Getting it all down on a spreadsheet and monitoring what you spend will help you decide where you should cut back.
2. Save on food.
You've got to eat, but it needn't empty your bank account each week. Lurk around the reduced section of supermarkets, especially late at night, to pick up yellow-stickered bargains, and don't be fooled by BOGOF or 3 for 2 offers on things you might not actually want. Plan your meals, write a shopping list before you go and stick to it, and finally – don't food shop on an empty stomach, it's well known that you will buy much more than you need.
For food vouchers targeted specifically at students, check out Student Money Saver, which has a dedicated page on this.
3. Collect loyalty cards.
Keeping a few store cards in your wallet will save you plenty in the long run. Tesco's Clubcard scheme is one of the best – if you do most of your food shopping here, your points will build up quickly and you can multiply and trade them up for meals out and experience days. If you buy plenty of toiletries, the Boots Advantage Card is fairly profitable and your points can stack up quickly to give you money off.
4. Put on a jumper, and save the environment – and your cash.
If you're not living in halls and your bills aren't included, it's time to start changing bad habits. Turn the thermostat down, or completely off if you're all out during the day. Flick lights off when you leave the room, and give shorter showers a go. Winter is drawing in, so put a hot water bottle under your duvet to make your bed cosy and wrap up in a jumper in the evening. Don't forget, you can always make a trip to the library for free heat and electricity!
5. Don't buy new textbooks!
Course-books will suck funds out of your account like hefty, rectangular leeches. A stack of glossy new tomes from the university shop may look appealing, yet this can be a colossal waste of money. First, do your research: can you get any books in the library? Are all the books on your list crucial to the course, or can you get photocopies of important chapters? For books you just need to buy, always try to buy secondhand – either at campus sales and on Facebook groups, or on websites such as Abebooks (abebooks.co.uk) and Alibris (www.alibris.co.uk). At the end of the module, you can trade them in on Amazon for a gift card or whack them on eBay to earn some of your money back.
6. Get your student discounts.
You've got your student card, now make the most of it! Many high street shops offer at least 10% discount, and look out for certain times of the year when this rises to 20%. Be cheeky and always ask in shops and restaurants whether they offer student deals, and have your card on you every time you go out.
7. Invest in an NUS extra card for more offers.
Not enough savings for you? Sign up for an NUS extra card (www.nus.org.uk/en/nus-extra) – it costs £12 for the year, but you can make that back quickly. Use it to blag a cheaper Railcard, or to get money off at Amazon, the Co-Op, National Express Coaches, student-priced cinema tickets at ODEON, and hundreds more places, all listed on the website. Outlets in your student union might also give you discounts with an Extra card – keep your eyes peeled!
8. Look out for freebies and deals online.
Websites aimed at students are usually updated everyday with new offers tracked down from across the web and beyond, specifically for those in university or college education. StudentBeans and UniDays will send you regular emails bulging with discounts – all you need is your university email address. Sites like Student Money Saver and Save the Student regularly list freebies and discounts, divided into sections like entertainment, travel, food and drink, and finance.
9. Argue for better prices.
Don't be afraid to fight for better deals, especially on your phone and fuel bills. If you've seen a better price elsewhere, call up your provider and tell them – they'll often match the price or offer an even better one! Check through your statements regularly and see if you can negotiate to cut your costs.
10. Save on travel.
Train ticket prices are climbing vertiginously with no sign of stopping, but there are ways of cutting the cost of trips home and to friends. The best solution is the 16-25 Railcard, which makes all train journeys a third cheaper. If you can plan your trip early, book in advance, as it's often muchness expensive. Finally, sites such as SplitTicket.com and FareSaver.org can tell you if buying your tickets separately for each leg of your trip could save you cash.
Joe Levi is the founder of Student Money Saver, a website that aims to help students save money on anything from mobile bills and Wi-Fi to train tickets and student holidays. Joe, a natural born entrepreneur, who started his first jeans shop in secondary school, founded the student discount website in the halls of university.  It is now one of the largest student sites in the UK, with a quarter of a million followers on Facebook.