Singaporeans travel overseas like there's no tomorrow. It's probably because the country is so tiny that traveling just 40 kilometers in any direction requires you to carry your passport.
It's a good thing that the Singaporean passport lets its holder travel to most countries without fuss, and there's no lack of innovation when it comes to online travel services – social travel discovery and recommendation sites, for example, or airline comparison and booking engines. But one area in the entire travel experience remain stuck in the Middle Ages – getting your money exchanged for the right currency.
Here's what most of us probably do – go down to somewhere like Change Alley in the financial district, check the foreign exchange rates mounted on digital screens at each money changer, and search for the best rate. Then we queue up like every responsible Singaporean does and wait for our turn. By the time we reach the counter, that rate may have just changed (and probably not in our favor). Archaic, to say the least.
Until now. GET4X is a Singapore-based technology startup that looks at simplifying the process of how Singaporeans exchange their foreign currencies. GET4X basically offers an online site as well as an iOS mobile app that allows users to compare foreign exchange rates from various money changers in Singapore. These rates are actual retail rates offered by money changers, not mid-market rates one finds on established currency converter like XE.com, Reuters or Yahoo! (the global rate used by major banks to trade currencies among themselves), so all you need to do is find the rate you like, and head directly for that particular money changer. It's free for consumers and money changers, and obtains revenue through advertising and value added-services for money changers.
The idea for the forex rate comparison engine came when 30-year old Julien Labruyere (pictured), the founder of Asian Mobile Ventures – which developed GET4X – was sharing his travel plans to China with a friend last year and realized he hadn't exchanged for some Chinese RMB. Trying to do it the regular way was time-wasting and frustrating, and he came away thinking "why can't we just compare the money changer rates on a website or even better, on my smartphone, the same way we compare air tickets and accommodation deals?". "GET4X was born, the very same afternoon," laughed the French national, who's been based in Singapore for over four years. It helped that the domain name was available, and he thought its brevity and pun made it easy to remember.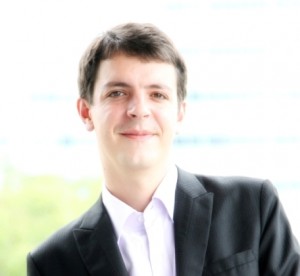 Launched in mid-September this year, it's obtained some 1,000 registered users within a month and saw some 1,500 downloads of its iPhone app, but has already seen some S$1.5 million worth of currency transactions. It currently lists 25 money changers, but that number is set to grow rapidly as the service takes off.  The startup also managed to get some funding from private equity firm Holt Asia Investment, which will help it expand outside Singapore once they are ready for their next phase of growth.
The team currently consists of 5 developers and 2 business staff, including founder Labruyere.