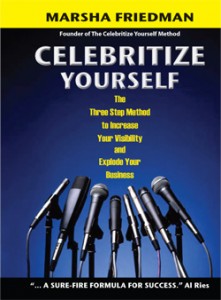 Are you keen to be better known and respected in your field of expertise? Have you wondered how seemingly ordinary folks – policemen, plumbers, teachers and housewives – have risen to become well-known household names?
If you do, consider adopting the principles written by Marsha Friedman in "Celebritize Yourself: The 3-Step Method To Increase Your Visibility and Explode Your Business". So what are the three steps? They are:
1) Write!
2) Speak!
3) Sell!
Written in simple plain English with a direct "DIY" style, "Celebritize Yourself" outlines the benefits of being a celebrity, describes how one should publish a book to establish credibility in any field, and elaborates on the publicity generating process. Backed by Friedman's own experience as a seasoned PR consultant, the slim volume narrates the whos, whys, whats, whens and hows of achieving personal limelight.
To reinforce learning, salient points for key ideas are summarised into factoids. Examples of these are:
"Opportunity has no birth date, though it most definitely has an expiration date."
"For your book to become your marketing tool, you must become the architect – the carpenter, if you will – of your very own celebrity."
"Your message is what will define you."
The first three chapters of "Celebritize Yourself" adopts an introspective "why should I be doing this" approach. Peppered with examples from the real and "reel" worlds, Friedman highlights the pros and cons of stardom, helps us to identify how we can change the world, encourages us to determine our weaknesses, and provide tips on how we can make transform ourselves accordingly.
With the foundation in place, the book next elaborates on the book writing and publishing process (hint: you don't have to do it all yourself) and strategies on generating publicity. From the local presses to nationwide TV, Friedman shares that the way to secure an interview is to be entertaining, informative and motivating. We're also told about the importance of having a good sound bite and how this makes all the difference – in fact, the book is chockfull of them on every page!
In the final three chapters or so of the book, Friedman dives more deeply into the nuts and bolts of the business of fame. Here, we're taught about the process of newsmaking and why different approaches are needed for radio, TV and print media like newspapers, magazines and websites. To clarify our journey, we're also asked a series of questions, namely:
1. What's Your Vision for Celebrity?
2. What is Your Commitment to Your Vision?
3. What is Your Own Unique Message?
4. Why Does Your Message Appeal to You?
5. Why Will Your Message Appeal to Others?
6. Who's Your Target Audience?
7. What's Your Plan for Celebrity?
8. When Will You Start?
9. Have You Picked the Right Teammates?
10. How Will You Measure Success?
11. How Did You Score?
With its target set on lay readers who may be doctors, chefs, insurance agents or anybody with an area of specialisation, the book is more heavily slanted towards personal motivation than management methodology. As a seasoned PR practitioner, I find that much of the book's publicity tips are fairly commonsensical. You can probably find most of these strategies if you surf article websites and blogs widely and deeply enough.
Having said that, I like the optimistic (almost bouncy) way in which Friedman paints the picture of personal profile building. Personal branding, publishing and PR strategies are presented in a refreshingly straightforward manner without the usual marketing speak. With the proliferation of personal profiles and in the age of "Me Media", building one's star status becomes more important than ever before, and Friendman's book provides a good road map of the way ahead.
This article was first published as Book Review: Celebritize Yourself: The Three Step Method to Increase Your Visibility by Marsha Friedman on Blogcritics.