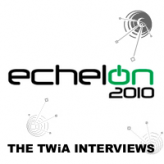 The second of the special episodes that line up for Echelon 2010, we have Jeffrey Paine, from Founder Institute and also a managing partner at Battle Ventures. We speak to him regarding the opening of Founder Institute and how the course has been ongoing in Singapore for the past few weeks. As Jeff is moderating the panel "Mentorship, Investment and New Funding Models" in the coming Echelon 2010, we discuss with him on the issues which he might cover and also his thoughts on the current trend where the micro venture capital model is becoming a new wave in creating start-ups with low cost and high effective return.
Podcast: Play in new window | Download
This article was first posted at ThisWeekInAsia, a podcast that caters to what's the hot and interesting news dominating the web and tech landscape in Asia, and a fellow media partner of Echelon 2010.