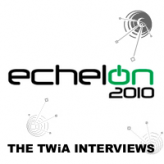 What's the story behind Chlkboard and what followed after the launch of the first beta in 21 days? Joining us in ThisWeekInAsia in conjunction with Echelon 2010, Saumil Nanavati, CEO and co-founder of Chlkboard came on our virtual studio and share with Chew Lin and Daniel Cerventus more on the local mobile ad network and his thoughts on the speed that start-ups need to innovate in today's world. Of course, above all, we ask him what he will look forward to in the coming Echelon 2010 conference which he will attending. Coming on board for this interview on behalf of his other co-founder, Bernard, who is a host to the show and a speaker on the panel "Mobile Applications: the State of Play", we will hear more about the mobile advertising space in the coming Echelon 2010.
Podcast: Play in new window | Download
N.B.: You can read our interview with Chlkboard here.
This article was first posted at ThisWeekInAsia, a podcast that caters to what's the hot and interesting news dominating the web and tech landscape in Asia, and a fellow media partner of Echelon 2010.