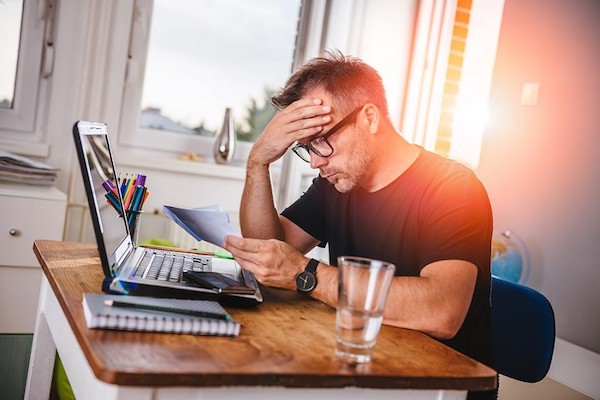 by Mike Monroe, Vector Marketing 
While the pivot to remote work in 2020 was jarring, many employees quickly realized the benefits. More than a year later, employees are seeking hybrid scenarios that allow them to work from home a few days a week while still visiting the office for regular meetings and team collaboration.
This hybrid approach shifts the power to employees. According to a Pew Research Center survey, remote workers have more flexibility in their schedules and can better balance work and family responsibilities. Employers and employees alike increasingly realize that productivity and efficiency don't require spending every waking second in an office.
But as job seekers hunt for these hybrid opportunities, they need to be wary of work-from-home scams. The allure of remote work has led some people into traps that promise a hybrid environment but deliver something else.
The Prevalence of Work-From-Home Scams
The pandemic led to record unemployment, which left millions of Americans in the job market scrambling for sparse opportunities, according to the 2021 "Unemployment Rates During the COVID-19 Pandemic" report. It also magnified the benefits of remote work. Combined, these factors introduced a new level of desperation in the job market. Some people are so focused on getting an "ideal" job that they fall victim to scams.
People who once held jobs in industries hurt by the pandemic — think hospitality and retail — are combing through job postings hoping to find the perfect hybrid opportunity that requires their skills. Enter the opportunity gap, which Brookings describes as the idea that low-income and displaced workers have the skills necessary to land their dream jobs but lack the opportunity to do so. These people are ideal prey for scammers because this is the first time many of them have explored other options.
Remote workers are also conducting business outside of the workplace environment, which means no one is watching if they casually browse the internet for other opportunities. Intercepted attention creates the perfect window for scammers to reach people and hook them into harmful situations. For example, the virtual selling industry boomed during the pandemic, but it creates the perfect conditions for scammers to take advantage of sellers as they close deals through a screen with people they've never met.
The Telltale Signs of Work-From-Home Scams
Work-from-home scams may be on the rise, but there are a few ways to spot them in a job search. Be on the lookout for job offers that feel more like trouble than opportunity. As the adage goes, anything that seems too good to be true probably is.
1. High-Income Promises.
Certain postings may boast high salaries with "exciting bonuses" and other offers. But if these flashy offers provide no pathway to success, beware of a scam.
2. No Base Pay or Salary (100% Commission).
If a potential employer offers no base salary and implies that someone will only earn a commission, it might be a scam. This is especially likely if the employer provides an unrealistic timeline for success.
3. Vague, Generalized Language.
If the specifics of a hybrid opportunity are veiled by vague language with no clear description of the work that needs to be done, be prepared to ask questions. Some positions are hard to describe in a few sentences. Others might be intentionally vague because they're shady.
4. Clickbait Call to Action.
Most legitimate employers provide a clear call to action on career websites. If a job posting leads to stock photos, a messy website, hard-to-find contact information, or no evidence of an established company, however, it could be a scam. Job seekers can always call the number listed or send an email to make sure.
5. No Company Information.
Before they send in applications, most job seekers research companies to determine whether they are a good fit. If the company's digital footprint (social media, etc.) is nonexistent, job seekers should stay clear. Also, the source of information matters. While anyone can voice their opinion on anonymous sites like YouTube and Reddit, a site like Glassdoor provides far more accurate, firsthand experiences.
Navigating the job market during the pandemic can be challenging for job seekers, but finding the right hybrid environment pays dividends. Always be mindful of scams veiled in supposed opportunity. With the right tools and resources, it's easy to sort through the clutter and find genuine hybrid job opportunities that can set careers up for success.
Mike Monroe is a Christian, husband, dad, marketer, and wannabe athlete. Mike started working at Vector Marketing in 2000 as a student at Boston College. He wanted to stick out from the crowd and develop himself professionally. Nearly two decades later, that goal hasn't changed. Learn more at TheVectorImpact.com.