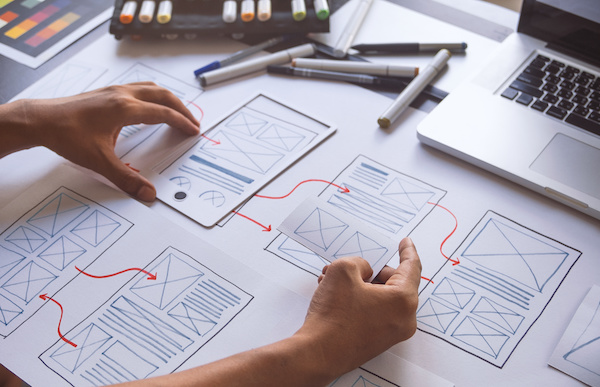 A website is more than just a "nice-to-have" feature to show to investors and clients. In this day and age, when more and more clients exclusively interact with brands online, the way you present yourself online makes a huge difference when it comes to engagement and sales. 
Branding-wise, a website is just as important as your physical location, and until all COVID-19 restrictions are lifted, a website may be the only available channel of interaction between you and your customer. But is it ready for that?
Modern customers are notoriously picky. A visitor takes as little as 0.05 seconds to make an impression about a website, and 94% of that initial impression is generated by design alone. What's more, 75% of visitors judge a company's reliability based on the design, and 88% of them will refuse to come back to a website if they didn't have a pleasant experience the first time.  
Post-COVID, the situation is about to become even more complicated. With more and more start-ups emerging, and user behaviour changing considerably, the standards against which you have to measure your website will get higher, and you will be affected by the new order of things even if your activity isn't exclusively online.  
Competition is fiercer than ever, and exceptional web design will help you stand out. 
A global pandemic might sound like a terrible time to start a business, considering that everyone foresaw the crashing economy. While the pandemic has put some out of business, it has also created many opportunities for entrepreneurs who were willing to innovate. The COVID-10 crisis coincided with a technological revolution and created a disrupted environment where small start-ups could stand a chance if they know how to brand themselves. 
Before the pandemic began, the UK was already reporting the highest rates of entrepreneurial activity in 20 years. Even if COVID-19 slowed things down a bit, the number of new businesses is still on the rise. In the third quarter of 2020, the number of new businesses was 30% greater compared to 2019. This might seem odd, but there are many logical reasons for entrepreneurs to use the pandemic as a launching pad: there were many qualified unemployed professionals, many people lost their jobs, or decided to finally pursue their passion because they had more time on their hands, and innovators detected a gap on the market that they knew just how to fill. 
Why does all this data matter to you? Because it points to a dynamic, competitive business environment where customers have more choices than ever before. You can rest assured that, when faced with several choices for the same product service, visitors will take website design into account.  
COVID-19 has jump-started digital transformation, and, unfortunately, many businesses were caught unaware, with the same old WordPress template they've been using since 2016, and outdated content that no longer hits the right selling points.  
If you haven't changed your website's look in ages, now is the best time to talk to your designer about a redesign, along with brainstorming new ways to help your brand stand out from the crowd.  
Users have different expectations. 
If we look at the data, some businesses managed to grow during the pandemic. For example, according to a CNBC study, online sales went up by 31% in three months. However, it's important to point out that, even as an online store, you will only be able to achieve growth if your website looks and works incredibly well and satisfies user expectations. 
What are these expectations?
The design should be easy to use and understand.
Branding specialists have been recommending a UX-first approach for a while now, so it isn't entirely new. However, with the pandemic, is the need for user-centric web design is about to get even bigger? The infamous 8-second attention span is already narrowing because of the way COVID-19 has influenced our lifestyle. People who are spending more time at home may be distracted by children or work tasks. After all, everything that's happening in the world has made us more anxious and impatient, so any website that doesn't immediately provide the value we look for gets closed. To add to these challenges, there's also the fact that when businesses moved online, they also brought in customers who may not have used the Internet before, who mostly relied on physical interactions. For them, simple and intuitive designs are essential, because you don't want to push them away when they visit your website for the first time.  
The design should pop
.
Can you launch a website and use a default WordPress theme? 
Of course, but branding-wise, it's a really bad idea. First of all, it will make you come across as unreliable and unprofessional, which is never something you want. The more your website design stands out, the likelier people are to remember it. Secondly, studies have shown that, during the pandemic, consumer expectations have changed. People are no longer looking for the best prices. They're also looking for a meaningful relationship, and your website design is the first stage in that relationship. When you're trying to attract customers, you have to one-up your competitors, but you also have to one-up the previous experiences that customers have had with your business. No matter what makes your brand unique, now is the time to let that uniqueness out. Creative aesthetics and quality content can help you show your audience that you're not just another business and that you bring something new to the table.  
Refreshing your website design may be part of an extensive rebranding strategy. The new design may not be ready overnight, and it might require intensive talks with your branding specialist to determine the essence of your brand, and how to transpose it in the design. Even if the whole process might take a while, every dollar invested can help you yield a bigger ROI, so the effort will definitely be worth it.