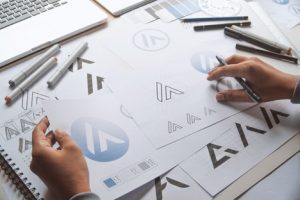 Are you struggling to design your logo?
Let me tell you a secret; you're not alone; everyone needs inspiration when creating one. But here's the good news, every person that ever designed a logo found inspiration, and so can you.
But before you start looking, how do you know what gems of enlightenment to use?
A proven approach is to ask yourself why you're creating a logo, what is it you want it to represent. And knowing your story is the right place to start when looking for answers.
1. Let Your Story Inspire You.
Only you know the why behind your business, it's what inspired you to create it. It's also what your customers will connect with, because your why is the reason your business exists, the human element behind the logo.
Ways of finding the inspiration in your story:
Consider your brand story in a visual context, have any pictures come to mind? If not, here are some useful questions for getting your visual juices flowing:
What icons would represent your brand's identity and qualities?
Think of words that describe your business – Are they formal or easy-going?
Which fonts would suit your words? – What feelings or behaviors do they represent?
What colors match your message? – Are they cheerful or authoritative?
Does your brand name lend itself to using wordplay or visual puns that could cleverly describe it? 
2. Logo Tools Are Fountains of Inspiration.
Another way of getting ideas for your logo is to look for a source that provides thousands of companies with proven design techniques every day. A logo design tool can be a fountain of inspiration:
When you first use a logo design tool, they start by asking you questions about your business; this is so they can search their vast library of shapes, colors, fonts, and designs to find ones that are relevant to you.
They will then provide about ten versions. At which point, their AI technology will refine the designs even further, offering you a choice of logos selected by your preferences, and using the psychology of shape, colors, and fonts that are proven to work within your market place. You can then choose to purchase the finished logo or use it as inspiration.
3. A Picture Tells A Thousand Words.
I love this next approach because it taps into design preferences you may not have known you had!
Look at pictures or ornaments you own, are there any shapes or colors that drew you to them? What about those favorite photos you took on vacation, is there something there that you could give to a designer to use as a base for your logo?
If you need to dig a little deeper, search for that image on Google and look at variations. It's a great way of finding inspiration and will provide you with plenty of ideas for getting started.
4. Your Competitors Can Help.
You can bet your bottom dollar your competitors have already been through this process, so why not take inspiration from their hard work.
They have chosen their colors, fonts, and designs based on proven psychological techniques that work for your market place, and if their brand is a successful one, you can be sure that their logo is connecting with your target audience.
Don't copy what they've done in any detail, but use it to provide a platform from which to start. Take your competitor's ideas and see how they fit with your story and don't be afraid to go in a different direction, by using their techniques and creating a logo that is 100% original and uniquely yours.
5. Images drive social media.
Instagram, Pinterest, Tumblr, and Behance can provide you with an endless supply of fresh and exciting ideas.
Logo artists use these platforms to showcase their latest designs, and you can follow them, so you're notified every time a new one is posted. And a great way of finding out which styles are connecting with the online community is by checking out the number of likes they get and reading engagement comments.
Now you have a library of fresh images to look at, and the community has already told you if they like them! So, join one and let the inspiration flow.
6. Bring Out the Artist Within.
OK, now you have all of these resources for inspiration; it can be overwhelming, so let's scale it back to where we started, you.
Start by doodling in black and white, using simple sketches with basic shapes of what you've collected so far. You might find it difficult at first, but once the levy of inspiration breaks, you will quite quickly have pages of random sketches in front of you.
Soon, you will start to see a pattern emerging; this is your signal to begin refining, now you are tapping into your inner artist, which can lead to creating a logo that you can proudly tell people, I designed that.