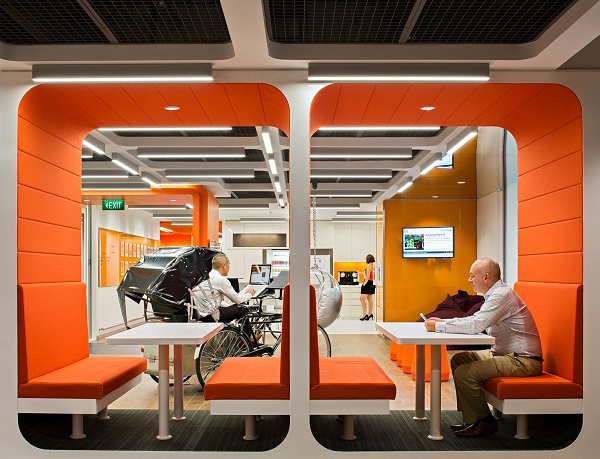 by Leonard Callejo, Director of Online Marketing at Cisco Webex 
Empty and underused office spaces are teeming with potential.
With so much real estate available, it's an opportune time to experiment with an office space layout and right-size it with the features you need to build a collaborative office space — one that inspires workers to produce to their fullest potential. That could mean adhering to an open office plan, doubling down on meeting and breakout spaces for your smaller teams, or marking off private office spaces for leaders who need to share sensitive information.
It may take a significant amount of time and money to develop a right-sized office space that can accommodate the production and growth a business hopes to experience. However, that investment is well worth it when teams are more collaborative and productive.
Right-Sizing for the Right Reasons.
Right-sizing an office space layout is an effort to make your company's success a product of its environment. Productive office space design should foster a collaborative vibe and inspires creative solutions.
Research shows that a right-sized office boosts productivity, increases employee satisfaction, and helps companies attract and continue to develop high-level talent. But those silver linings only materialize if due diligence is done with regard to employee preferences. The best layout for an office space can come down to whatever setup your employees are most used to or what aligns best with their specific expertise.
Take engineers, for example. Most engineers thrive in open workspaces that don't contain much more than a whiteboard and enough space to move around and think on their feet. Then there are marketers and salespeople, who are flexible enough to function in most environments but who perform best with an office space layout that includes huddle rooms and small breakout spaces that allow groups of two or three (or sometimes one) to separate themselves and work.
Right-sizing a work area into a collaborative office space starts with understanding what kind of environment will inspire said collaboration. Do that, and the ideal office space layout will evolve along with your business.
Sizing-Up a Workspace.
A right-sized office uses its physical dimensions to enhance a team's ability to collaborate and produce at a high volume. To ensure a workspace lives up to that promise, use the following three steps:
1. Keep flexibility in mind. 
What's standard for a work culture now might not be standard months or years from now. Develop a right-sized office with the ability to customize to the whims and wants of the modern worker.
Consider the ongoing COVID-19 outbreak and the push toward remote work, for example. Companies everywhere have responded by requiring all workers to stay home through these uncertain times. While pandemics are an extreme circumstance, it's important to have a work culture and space that enables remote workers to connect from anywhere — as if they're seated at their desks.
2. Account for empty space. 
While it's easy to look at an unoccupied space and plan uses for every last square foot, that doesn't mean team members will use the space as intended. The best way to know how to make your office space more productive is to look at the totality of the workspace and adjust accordingly.
If there's a large portion of the building that people aren't using, reassess your office space layout. Look at ways to repurpose unused space, or you could ask staff members what they'd like to see there. And remember, right-sizing can be an ongoing process that continually finds ways to best use your office space.
3. Align space with culture. 
If a company's culture preaches collaboration, its office space needs to mirror that priority. As one goes, the other should follow.
Just because a space is open and lacks barriers between different levels of a company doesn't mean collaboration will happen organically. People may still need their personal space and naturally section off. Take stock of your office culture and develop a right-sized space that plays to the culture's strengths. While you're at it, ensure that shared spaces like huddle rooms have the right equipment and supplies — whiteboards, easels, video conferencing devices, etc. — for your team to be productive.
Determine the number of meeting spaces, the layout of any production areas, and other variables based on what your culture has and will continue to dictate. Adjust when needed to make sure you're maximizing collaboration.
A workspace and its available features are only as good as their applications. Right-sizing an office is an effort to develop an environment that continually inspires productivity and business growth. Look for opportunities to build a workspace that realizes that potential.
Leonard Callejo, Director of Online Marketing at Cisco Webex, is a successful enterprise software digital marketing leader that has built agile, data-driven demand generation cultures that span start-up, high-growth, large enterprise and turnaround business situations. He has managed award winning, distributed, remote marketing teams spanning the globe for over 20 years. Currently, Leonard leads online marketing for Cisco's Webex.com, a leader in software-as-a-service (SaaS) video conferencing and team collaboration solutions.