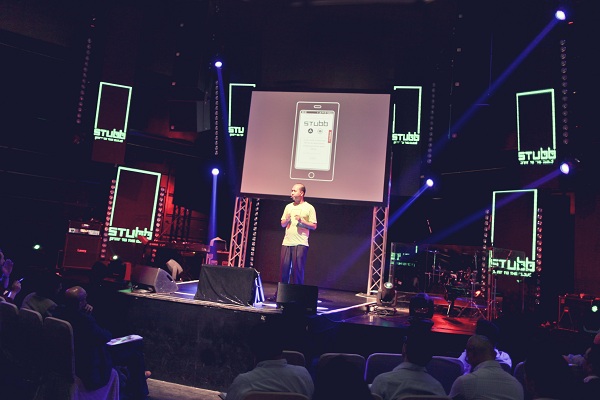 by Caroline Pegden, co-founder of TempaGoGo
One of the biggest problems facing any entrepreneur is how to convince people that your idea, product or service is as great as you personally believe it to be.
There are different ways of achieving this, but winning a Business Award is one of the most powerful and long-lasting in its effects.
On the night of the ceremony itself, you might have the chance to network with 500+ people in and across your niche, and gain valuable interactions on Twitter and LinkedIn both during and after. As any entrepreneur trying to grow a fledgling company will know, such gilt-edged opportunities do not always come thick and fast.
The best thing about awards, however, is what happens after. The physical gong might gather dust on your shelf, but the accolade will act as a magnet on your website, in your marketing and all through your communications. It is a concrete measure of your success, not on your own terms but in relation to your competitors.
Our startup, TempaGoGo, a comparison website for temporary agency recruitment, won 3 awards within 6 months, including the Innovator of the Year award from Hounslow Chamber of Commerce, in partnership with Heathrow. We've been really impressed by the impact these awards have had — allowing us to connect with investors and prospective clients, and establish our credibility in the market.
So, how you should you set about on your path to becoming an award-winning business?
The task can seem daunting. How do you find out about awards in the first place? Deadlines? Sectors? Locations? Fees? The dreaded disclosure of precious financial information?
You will find below my top tips to win a business award.
1. Choosing an award.
Business awards can be either regional or national, sector-specific or deliberately broad. Early-stage startups might want to consider local opportunities first before plunging into national awards! Boost.com provides a list of all UK Business awards as split by region or industry, complete with deadlines.
For instance, these are the London Business Awards available for the rest of 2019:
It really is worth checking whether your particularly business sector offers regional or national awards, as these can be very niche! You have the Startup Awards, the Family Business Awards, even the Security & Fire Excellence Awards (which has sold out every year since 2014!).
It's not all about white collar tech companies — there are more than 65 construction-specific awards to apply for every year, to give but one example.
Make sure to check out your competitors and see which awards they have won. Don't just be reactive — work out which ones they haven't won, and prioritise these.
2. Select your category.
Once you have made a shortlist of awards you would like to apply for (these take a lot of time to do well, so 3-4 should be ample), it's time to check the website for which categories are available.
Many such categories will be irrelevant to your particular business or the make-up of your organisation. As a startup, you might find there is a specific 'Start-up' category, or often you could look at listings involving future potential or business innovation.
If you are looking for a little more choice, it might be worth applying for the Startups Awards. Dedicated to early-stage companies, there were over 15 categories to choose from in the 2018 edition, including, inter alia: B2B Business of the Year, Crowdfunded Business of the Year and Export Business of the Year.
3. Read the Rubric.
Most importantly, be sure of the deadline. Planning your entry and writing specific copy takes time, so leave a week or at least a few days. Hastily hashed out copy with blank figures will not cut the mustard, so make sure you have figures ready. Judges may want to see your balance sheet, as this is the most concrete proof of your success, but you simply cannot afford the reputational damage of appearing rough around the edges — especially as some startups may have PR professionals on hand.
Unfortunately, you cannot simply copy and paste from one application to another. Some events, such as the British Business Awards, require you to write a lengthy 'essay style' submission which require careful thought.
Others are more focussed on bottom line statistics. Deloitte, for instance, do not let you make a nomination without first providing past revenues, future growth plans and two-years worth of signed, audited and unabbreviated accounts.
As a young startup, you may not be generating revenue, or would rather not share your financials. External validation such as testimonials from customers, anecdotes or any numbers demonstrating growth are particularly powerful.
4. Answer the relevance question.
Often, business awards are available for certain identities. These might be categories such as 'Young Entrepreneur of the Year', 'Best Family-run Business' or 'Woman in Business Award' — that is, specific to you as a person.
Of course, these are well-worth applying for. However, your submission must pass the relevance test. What is it about being under 30 that has helped drive your business? How have you used your family heritage to build customer loyalty?
It is not always enough for it to be just a 'coincidence' that you have launched a startup at a young age or with another family member. The trick is to be able to show how such a combination has been beneficial to your business and inspire others to do the same!
The Family Business Awards, for instance, are looking for firms that use their 'family nature and values to build successful businesses and represent great ambassadors for the sector' — such as the St Austell Brewery, the 'Super Champions' in 2019.
5. Keep your reviewer entertained.
Like examiners or recruitment consultants, award reviewers are faced with a thankless task. Some poor reviewer might have to sift through hundreds of these applications, a good proportion of which may have been hastily compiled and poorly written.
Therefore, as well as technically perfect, your application should be at least easy to read and ideally actively engaging. Every founder has a good story to tell!
Stats are important, but should be woven into an intriguing narrative. Did you have a brilliant marketing strategy to boost your figures? Include what you said or designed, even if you think this is irrelevant. Perhaps you suffered rejection from company after company before anyone reached out a hand. Some light emotional tugging at the heartstrings could serve you very well indeed!
Following a decade of corporate life, Caroline Pegden co-founded TempaGoGo, an award-winning comparison website for temporary agency recruitment. After a MsC in Science of Management for HEC in Paris, Caroline worked in multiple locations and sectors, starting in strategy with McKinsey & Company in France and the UK, then moving to the fashion industry. Before joining TempaGoGo, she led a large-scale digital transformation in the UK public sector, exploring how to leverage machine learning in government.