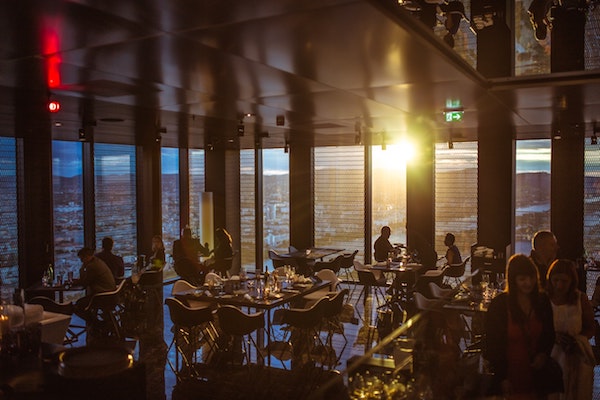 by Jeremy Hood of Ktchndad
Running your own business is more than a full-time job. Between keeping an eye on staffing and training, monitoring the maintenance of the building, okaying new menus and pricing and looking for the best deals in food costs, it may seem like there is not much time for anything else. 
But although you have loads to do with regarding the upkeep of your restaurant, it is also essential that you continue advertising your business in order to increase restaurant sales. Why? Although business may seem to be booming today, the opening of a new restaurant or a rapid change in food trends could cause your business to shift elsewhere, so it is best to continually advertise your restaurant for new customers and offer some kind of loyalty rewards to existing customers to ensure they come back to visit you soon. 
Are you looking for ways to increase your restaurant sales? Maybe your business is currently doing well but you are looking for some tips and tricks on how to bring more clients through the door. Or perhaps business is dwindling and you would like some information on how to win back your old customers and gain new ones, then you have come to the right place as I will go on to discuss 3 ways to increase your restaurant sales that will help you to see an immediate increase in footfall.
1. Get online.
You can purchase just about anything online nowadays and food is no exception. Make sure your company's website is up to date and includes the latest copy of your menu. When hunger strikes customers do not like to wait, but with an online menu your customers will be able to choose what they want to eat from the comfort of their home, phone you up to place an order and then swing round to get it, or ask for a delivery. 
2. Be photogenic.
Ever thought you weren't hungry until you saw a photo of a dish from your favorite restaurant and noticed your stomach immediately begin to rumble? The best way to advertise is via photos so make sure you include appetizing imagery of the dishes on your menu to encourage customers to pick up the phone.
3. Maintain loyalty.
As mentioned at the outset, customers love feeling like they are getting a discount or some kind of benefit because of being loyal to their favorite eatery. A nice way to encourage existing customers to come back to eat at your restaurant is by creating a discount card. You could go digital and have an official scannable points card made or even an ordinary printed card with stamps for loyalty points will suffice. 
Whatever option you choose, make it easy for customers to return by including your restaurant's address, telephone number and Facebook page to the back of the card. 
Don't forget to make the card worth their while! Offer a free main or dessert as part of your loyalty card promotion after a certain amount of visits. Why? No one likes eating out on their own, so if one guest is eating for free thanks to a loyalty card promotion, it is likely that the guest they bring along won't be. Also, no one likes a dry meal, so if your customer is getting a free meal, he may feel inclined to purchase a drink or two and maybe a dessert. 
Conclusion.
So, if you are looking for some ways to make your restaurant more popular, try the above mentioned tips. The best part is that they are so simple they can be put into practice immediately so that you can start seeing the results, today! 
Jeremy Hood grew up learning how to cook from his parents as well as working in a high-volume catering operation while in college. Jeremy received his formal education in accounting, and got his real world education in marketing and management as the COO of a retail franchise. Since 2016 he has been focused on digital marketing with an emphasis on creating systems for growth and operations. He now enjoys spending time with his family writing for his blog Ktchndad.