by Manish Dudharejia, President and Founder of E2M Solutions Inc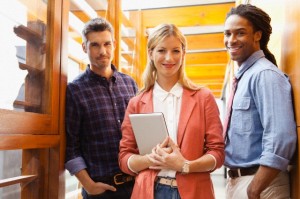 Hardworking, talented interns are a rare breed. Hiring a young worker to help out at your company can be a great decision, but only if you take the time to find someone who can add value to the team.
Because almost every college student in America is looking for an internship at some point, you'll need to sift through the applicant pool to find the best ones for your small business. Your end goal should be to find an intern that could eventually work for your company full-time, so not just any student or postgraduate will do.
Here are some tips that will let the interns come to you, but will filter out the best of the best for your company.
Make the Application Process Less Intimidating.
Internships are usually one of the first professional jobs young people apply for. Therefore, the process of submitting their information can be lengthy and scary, especially if this is their initial application during or after college. According to the Human Capital Institute, about 60 percent of job applicants quit in the middle of the application because it's too long and complicated. Don't turn young interns away with an over-the-top process.
Make the submission as easy as possible. You still need to gather all the relevant information, but remember that you aren't hiring a full-time employee with years of experience. Gather what you need to know about their qualifications quickly and simply.
You might want to suggest tools to interns that can speed up the process. For instance, some college students might not even have a resume prepared to turn in. Encourage them to use tools like Resumonk to instantly create a polished record of their achievements.
Another great recommendation for young applicants is to have a grammar editor look over their work before they submit it. Free, natural language processing tools like Grammarly can catch silly errors that might cause hiring managers to disregard their resume at a first glance.
The more helpful you can be during the interns' application process, the more likely you are to receive a high number of qualified candidates. Now is not the time to intimidate; be proactive in helping these young workers succeed.
Share What's In It for the Intern.
Nowadays, almost half of all college students are accepting unpaid internships. Although that number continues to decrease, many interns take on their positions for reasons other than monetary gain. They're seeking experience, career-furthering benefits, and networking opportunities that will help them later on in life.
Be upfront about what your interns will receive from their position. Even if you won't be paying them, what will the job help them learn? Will they obtain new skills? Will they work with interesting people that can influence their career trajectory?
Many young professionals worry that their skills will be squandered on fulfilling coffee orders and making endless copies. If you're looking for an intern that can handle basic tasks like that, you're better off hiring another secretary or office manager. Interns want to know that they will be applied to meaningful tasks, not busy work.
Focus less on discovering what the interns can offer you and more on what you can offer them. Do that and the cream of the crop will rise in your applicant pool.
Make the Interview Stand Out.
Some experts estimate that it takes as many as 10 job applications (or more) to land one interview. Therefore, most interns only go to a handful of interviews, but it's still important to make a good impression on candidates. Remember: you're not just evaluating them. They're evaluating your company, too.
Don't ask the standard interview questions alone. Most candidates prepare thoroughly for those and have rehearsed answers. Instead, ask them about more unique aspects of their lives. Have them describe their personalities, their goals, and interests. Rather than asking them to rattle off a list of their experiences, have them provide specific examples of their achievements.
When you talk about your expectations for the internship, be clear about the skills you're looking for in a young professional. Both the applicant and the interviewer should leave with an understanding as to whether or not this is a good fit for both parties.
Not only will these tips help you learn more about your candidates, but it will also allow them to exit the interview with a more memorable, positive perception of your small business and its opportunities.
Personalize the Experience.
In the same vein as updating your interview process, make the internship itself personal to the candidate. They need to feel like this is a valuable opportunity they can't pass up, not just another unpaid apprenticeship where they might be taken advantage of by other employees.
Discuss goals and priorities with each intern to see how your internship can fit into their long-term plan. Figure out what skills you can help them build, what their interests are, and what excites them. Then, explain how the internship can pair neatly with those things.
Another great way to personalize the intern experience is to discuss the individual potential for a future within the company. Some experts at Time Magazine claim that internships have essentially replaced entry-level positions at many companies. Therefore, many internship-seekers may be applying in hopes of working with your company full-time someday. Discussing how an intern's unique set of skills apply to the company's future is a fantastic way to motivate and excite candidates before they start.
To Sum It All Up. 
Hiring an intern isn't a process to take lightly, even if their position won't last long. Internships can be mutually beneficial to both the intern and the employer, especially if you recruit the best candidates for your specific business.
Instead of focusing on weeding out the bad applicants, focus on making the great ones stand out. How can you attract the top students and postgraduates? What do they want from internships, and what can you offer them?
By making the application process easy and letting them know what benefits they can reap from the experience, you'll certainly find better applicants than you would by just slapping your job listing on  Indeed.
Manish Dudharejia is the President and Founder of E2M Solutions Inc, a San Diego Based Digital Agency that specializes in Website Design & Development and eCommerce SEO. With over 10 years of experience in the Technology and Digital Marketing industry, Manish is passionate about helping online businesses to take their branding to the next level.