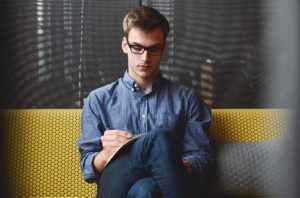 Time is college is a great opportunity for those who want to start their own business. Of course, students are usually low on a budget, but there are many opportunities that do not require huge investments. Why is it a great time to start? Well, first of all, students do have time and energy. Secondly, if you don't succeed with the first try, it is not a big deal – you still have college and can start over with a new idea again.
After all, it can become an additional part of your income and reduce an educational debt you might be in. So what can students actually do with a low budget?
Here are some interesting ideas.
1. Selling Your Services.
The first thing to start with is what you are good at. Thanks to the internet there are many ways to attract clients that require all kinds of services. You can be in charge of your own schedule, which is also great. Maybe you are good at playing music or composing it, or maybe you are a great writer. Here are some options you might consider:
Tutoring. It doesn't matter what subject you are great at, there will be people that require help with it. Math, Literature, Chemistry, Music – try tutoring the subject you know best. Maybe you are good at dancing; it is a fun way to start your own dancing class. Fortunately, the advertisement placement can be free on many websites and social media.
Writing or translation. You can also provide writing services for other students on your own or via a credible platform. For example, you can cooperate with a writing business like

StudyMoose

, so you don't have to actually find your own customers.

Babysitting. Yes, it might be boring, but it is a good way to earn money and experience. Some students have actually done it while in high-school and know that it is not as hard as it seems. If you like children, it is a great opportunity.
2. Starting Your Creative Business.
If you are a creative person and like to produce things, you can start an online business that creates some products on demand. Such start-ups do not require huge investments and can be managed via social media easily.
T-shirt/postcards with designer prints. If you like to come up with interesting phrases or draw amazing art, this might be a good opportunity for you, creating products on demand means that you do them as they are ordered, so there is no need to invest a lot. Such a business is easy to manage and takes just simple skills; create an Instagram account and advertise it. People like customized things and you can be as creative as you want.
Creating digital products. This is another low-investment business opportunity. Digital products do not require any shipments, packaging, etc. and it can be whatever you want – an online course, music samples, photography, etc. anything that can be sold online can become your new successful business.
3. Affiliate Marketing.
Affiliate marketing means promoting someone else's services and products based on your experience using them. How does it work? For instance, you start a blog or a website where you promote products describing your experience, and you get a percentage from the sales. It is easy and doesn't require any particular experience. The most used platform is Amazon; you can buy some products of there and use them for affiliate marketing activity.
4. Social Media Management.
You can also look for work at social media, as an administrator of the page or an influencer. Such jobs require at least some experience with social media. For example, if you have many followers on Instagram, you can use that account to promote your services. Of course, you need to have to know how to handle social media pages, but still, it is an amazing job that you should definitely try.
5. Working as Tester.
There are many businesses out there that look for honest reviews of their products. After all, it is a crucial part of any business success – people should like the product. You can start looking for such opportunities as they also do not require any investment or experience.
6. Graphic Designer/ Web Developer.
For those students, who are keen on graphic design or web development it is a great time, as they can start their freelance carrier at any moment. It is amazing as you can grow as a professional and learn new skills while making money and getting more clients. What do you need to start with? The examples of your work, a website that promotes your services and knowledge of your audience. A good tip is to focus on one particular niche and become a professional in it. You may also do one or two free projects for advertisement purposes, but do not get too distracted by them. After all, you are making business here.
Conclusion.
These are just several opportunities that are available for almost anyone. Try to make the best from your skills and knowledge, as they are always great to share with others. Whether you want to create or sell others' products, there is a place for you out there.