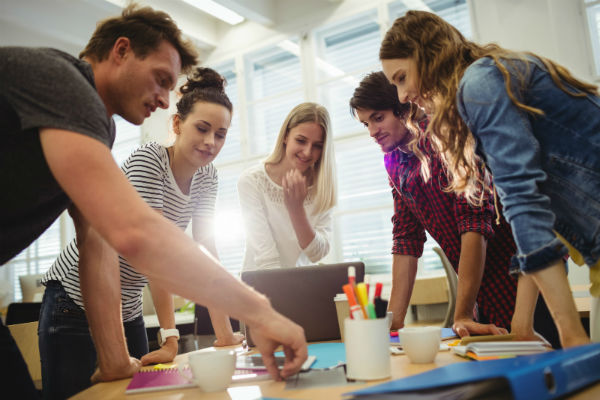 by Scott Schulte, vice president and senior benefits consultant at Sonus Benefits
Gone are the days of absentee leadership or CEOs who operate out of sight or behind the scenes. No, today's executives are highly connected and visible to their employees, due in large part to the ever accelerating pace of business. Leaders must make a growing number of decisions about the direction of their companies, and these decisions deeply affect their employees' daily lives.
The connected nature of the modern workplace means skills like compassion and empathy are essential. The ability to give and receive criticism — and to see yourself the way others do — directly affects your success. Although emotional intelligence is considered a soft skill, the need to have it is a hard fact.
The Signs of EI.
Individuals with high EI are able to exercise more self-control and exert more influence over others. They're also better at adapting to change and performing well in stressful situations — critical stuff in most work environments.
In fact, a 2018 study calls EI a key predictor of relationships, overall effectiveness, and quality of life. Additionally, it's imperative for smart decision-making, and competencies like optimism shine through in an emotionally intelligent person.
It's safe to say companies benefit from leaders with high EI. Often, this is most noticeable when it comes to employee retention and engagement: In a company with strong leadership, when something needs to get done, people strive to complete it — because they want to. They'll stay late or work on weekends to make sure important projects are completed. Essentially, the team will rally around an emotionally intelligent boss. A 2016 meta-analysis confirms this, noting that "leaders' EI positively relates to subordinates' job satisfaction."
Conversely, company heads with lower EI can spur high turnover and underperformance. Managers and executives with low EI may come across as rude or aloof because they aren't able to read social cues, accept blame or criticism, or recognize when they're wrong.
As an example, assume a task must be completed under a tight deadline: Employees work over the weekend to make sure it is, maybe missing their kids' choir rehearsals or soccer games in the process. Afterward, they're met with a leader who won't express gratitude or recognize their sacrifices. This is a sign of low EI. Unsurprisingly, these once promising employees will be less inclined to continue prioritizing work in the future.
While EI is a trait that everyone possesses in different quantities, consider practicing the following to cultivate yours:
1. Show recognition and express gratitude.
Frequently acknowledging the work, sacrifices, and contributions of your employees is a sign of high EI. It also encourages them to buy in to your company and vision.
When the company wins, give credit where it's due: "Lisa knocked this task out of the park; we couldn't have done it without her." When you lose, take ownership rather than shifting blame: "I'm sorry we had to cram this project in and that it didn't go as well as it could've. That's my fault." Yes, everyone works for a paycheck, but showing recognition and gratitude can inspire employees to go above and beyond their job descriptions.
2. Ask those you trust to give you honest feedback.
Ask someone you trust — in or outside the company — to tell it like it is. Tell this person you're trying to develop your EI, and ask where he or she thinks you could improve. Being able to self-scout is crucial to getting better, and a coach or confidant who knows what you're aiming for can help you get there faster.
Asking employees similar questions can also help you gauge your EI (and bring you closer to them in the process). Ask why they chose to work for your company, what they think of your leadership style, and what would make life easier for them. To get the most useful answers, send out companywide surveys on a quarterly or annual basis, and allow employees to answer anonymously. Show teammates you're listening by putting their recommendations into practice.
3. Glean insights from clients and business partners.
Sometimes, the most valuable and objective input can come from external stakeholders. If you're close enough to certain clients, ask them what it's like to work with you — the good and the bad. Again, be sure to express gratitude for whatever feedback you receive, and if they take the time to help you, don't ignore their insights.
Cultivating EI is an ongoing process, and it can be scary at times. But even simply wanting to improve indicates some level of self-awareness; the process of gaining more can only move you forward — in life and in the office.
Scott Schulte is vice president and senior benefits consultant at employee benefits company Sonus Benefits. With a deep and varied background in the insurance and employee benefits industries, Schulte promises comprehensive, customized solutions for his clients and has for close to 20 years. A St. Louis native, Schulte is a board member of the Gateway Chapter of the Leukemia and Lymphoma Society.