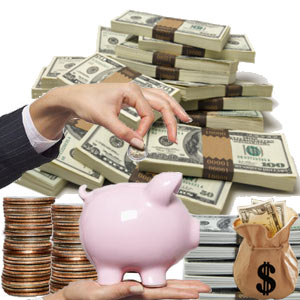 If you have a savings account from a local bank, chances are that you aren't earning much money each year. While it's beneficial and smart to have a savings account, wouldn't it be better if you were earning money on the dollars that you're putting away? Instead of settling for the interest rate that your local bank is offering, you'd be quite surprised at how much money you could be making with a high-yield account.
A savings account is a great way to make passive money. Put funds into the account each month and watch the interest numbers grow! Here are 4 banks with fantastic savings interest rates that will absolutely blow your mind.
1. Marcus by Goldman Sachs.
Marcus by Goldman Sachs offers one of the highest savings account interest rates available. With a 2.25% APY, you can all but ensure that your money will experience significant growth each year. Goldman Sachs is an online bank which means there are no physical branches or ATMs.
Because of the 100% online business model, Goldman Sachs is able to offer not only highly competitive savings interest rates but also other perks. For example, there are no monthly fees and the minimum balance to earn interest is only $1.
Without having to worry about fees, you can have peace of mind that each month your money is doing nothing but growing!
2. CIT Bank Savings Builder.
The CIT Bank Savings Builder account offers up to a 2.45% APY. This account offers two types, Monthly Savers and High Balance Savers. By making a single $100 during each evaluation period, you can be approved for a higher interest rate. To earn an even higher rate, have an account balance of at least $25,000.
Like other banks on the list, CIT Bank is an online-only bank. Without the expensive overhead that traditional banks face, CIT Bank is able to pass these savings along to their customers, most notably in the form of high-interest rates for savings accounts along with CD products.
To open a CIT Bank Savings Builder account, you must have at least $100 to deposit. There is no opening fee or monthly servicing fee. CIT Bank also doesn't charge any online transfer or incoming wire fees.
Want to learn about the CIT Bank Savings Builder account and other services provided by CIT Bank? Check out these recent reviews of CIT Bank to get the inside scoop.
3. Barclays Online Savings.
Another top-notch savings account with a great interest rate is offered by Barclays Online Savings. Barclays is the online division of the well-known global financial services company. With the Barclays Online Savings account, you can enjoy a 2.20% APY, which is one of the highest rates available today.
Because the Barclays Online Savings account is entirely online, the bank doesn't charge a monthly fee nor is there a minimum balance requirement. Be aware that the Barclays Online Savings account doesn't offer a checking account and there's no Barclays ATM network to use for withdrawing funds.
Barclays also offers other high-yield accounts such as CDs. By taking the time to properly invest your money in the right accounts can earn you some serious cash in the future.
4. American Express Personal Savings.
By opening an American Express Personal Savings, you can enjoy the benefits of a 2.10% APY. This APY is more than 18x larger than the national average of just 0.10%. This account doesn't require a minimum deposit and there are no fees to pay each month. As with any bank, American Express accounts are FDIC insured up to $250,000.
As you'd expect from other banks on this list, American Express is an online-only bank. To apply for the American Express Personal Savings, all you have to do is gather your personal and banking information and then apply for the account on the American Express website.
Once your application is approved you can begin to fund your account. To put funds into the account you'll need to link your current bank account with the American Express Personal Savings account or you can mail a check.
Conclusion.
There are many perks to having a savings account that offers a stellar interest rate. Not only will your money grow faster than ever before, but these accounts also offer conveniences that traditional savings accounts don't. For example, there are typically no monthly fees to pay or a high minimum deposit/balance. Less money paid towards fees and balance requirements means more money for you!
If you're looking to make a wise investment for the present and the future, consider moving funds into one of the four high-yield savings accounts above. Here's to years of earning!