How To Properly Set SMART Goals For Your Business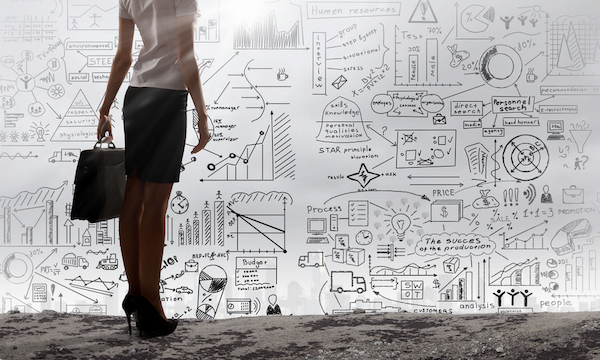 Starting a business is much work. So as an entrepreneur, you want to see that work pay off–you want to see your company expand. To do so, you need to have clear objectives and a structure for setting your goals. Having objectives set give us a course to follow, and a clear direction motivates our team and us to work towards those results. However, setting goals is easier said than done. So unsurprisingly, nearly half of all small business don't make it past five years.
Why is that? Assuming you have a working knowledge of running a business, the culprit might be a lack of proper goal setting. Successfully achieving our objectives is how we measure the growth of our business.
So how do you effectively create goals for your business? The solution is by setting SMART goals. Look at the "big picture"  and think about how you can break that down into smaller, more attainable tasks. By reverse engineering your clearly defined objective, you will uncover the easy projects that your team can tackle on a time-conscious basis. This can all be done using the SMART goal-setting technique.
There are five components of SMART goals: Specific, Measurable, Achievable, relevant, and Time-bound. Let's take a look at each one and apply them to a real-life business objective.
Specific goals.
Your goal needs a crystal-clear definition. If you want to grow your enterprise, identify what needs to be done to do so. Ask yourself who will be involved, why it is necessary, and when you want to start. Once you have addressed each of these elements, you can begin to narrow your definition of what your objective will look like.
The next step is to define what growth and success look like for your business. Do you wish to acquire more clients, or do you merely want to grow your social media presence? Accurately honing in on the specificity is detrimental to the overall success of the project.
Let's say you want to grow your customer base–they're the most critical aspect for your business's growth. It seems very simple, but by identifying this, you have now erased the ambiguity that lingers when pursuing an undefined, lofty goal. Now that you have precisely defined your goal, you can move on to the next phase of the SMART technique, which is measuring your goal.
Measurable goals.
Actively measuring your progress allows you to look at steps that are further needed to achieve the result. Try this through delegating tasks that branch from your overarching goal on a daily or weekly basis. Once you have finished your assessment, you will have an outline of how you and your team will accomplish these tasks. It might seem daunting to figure out what these small projects will look like, but by adequately analyzing how you will see results, and identifying the necessary actions, you will have an organized path to follow. Estimating how you will advance will more likely inspire your team to continue to move in the direction of your goal gradually.
So what is your approach to getting new clients? By asking this, you can brainstorm the critical strategies needed to obtain them. Once you have deliberated your method, you can start measuring your development through the use of tracking the completion of projects and customer acquisition.
Achievable goals.
All business owners are big dreamers. Having that "big idea" is the reason why they started their business. However, sometimes having that one idea is too unrealistic to follow. Be practical about your goals and your approach, and thoughtfully evaluate the possibility of achieving the results. If your objective calls for additional employees or assets, assume how you will allocate them. You can also identify which tools and resources you presently have and leverage whether or not they'll help with attaining the goal, mainly if they reduce back on any supplemental costs.
Now, if the reason is to get additional clients, what number of are you capable of fitting into your present-day agenda? Carefully take into account your assets while evaluating this, because in case you don't have a large, sufficient infrastructure set in place, you will probably put your team in over their head. Ultimately, understand what works for you and your team. Too many clients could lead to an excessive amount of work for yourself that you only can't keep up with. Of course, you could hire additional talent or freelance work, however, that might not fit into your initial budget.
Relevant goals.
Several factors can impact the result of your business accomplishments, which can't be overlooked. However, you should set goals that apply to your current plan of action. Evaluate whether this goal directly benefits you, your colleagues, and most importantly, your business. There will be a lack of investment in work by your employees if they don't believe what they are doing is relevant to the growth of your business. You want to identify the benefits of achieving your objective additionally.
Increasing your customer base is extremely relevant to the development of your business since it increases your income, which consequently, allows you to employee more talent and invest in new resources. By clearly figuring out what you and your team gains from this goal, you might spare yourself from pursuing an irrelevant goal, which would mainly be a waste of time.
Time-bound goals.
Allotting an appropriate amount of time is necessary for seeing results. Business development is an ongoing process–that's for sure. However, to improve, it is vital that you have deadlines set for smaller projects. Also, set a date as to when you want to have your objective officially met.
Let's say you have earlier identified that gaining six new clients is achievable for your team, and you want to have acquired them within four months. To meet this standard, set a specific date to work towards. On that day, you will have at least six new clients in your roster. If you take the deadline seriously, you will be motivated to work harder.
If you need a bit of help with the structure of your business goals, you can set and track your development with the SMART goal-setting technique. You can also utilize several tools you that help inspire your group to start or continue with a current project, such as goal maps, vision boards, habit trackers, and weekly planners, all of which are present in a SMART goal-setting app. Effectively organizing and managing your goal will more than likely allow you to grow your business successfully.

Young Upstarts is a business and technology blog that champions new ideas, innovation and entrepreneurship. It focuses on highlighting young people and small businesses, celebrating their vision and role in changing the world with their ideas, products and services.