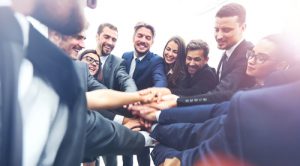 Every brand's success story is viewed from two perspectives: –
How they handled stepping stones, what innovative ideas they brought in the market, and the secret ingredient that keeps them afloat amidst all the competition.
How the team handled stepping stones, how the team worked on creating innovative ideas, and the secret ingredient to team spirit that keeps them afloat amidst all the competition.
It is clear that while the world views success as a series of accomplishments, a business owner knows it is all about the team. It is not possible to become a brand without a successful team backing you up at every point.
One of the major reasons why startups fail is due to the wrong team. Your team shouldn't necessarily be a group of highly skilled, all-rounder professionals. However, they should definitely fit together like a jigsaw puzzle where one person fills the shortcomings of the other – in order to create a bigger picture.
Here are top 6 ways that will help you put up pieces together perfectly to create the bigger picture.
1. Hiring process – make or break time.
Whom you hire decides the future of your startup and how you hire is how you can ensure a good future for your startup! Your hiring process should be crystal clear in your mind and should filter you the candidate that not only meets your requirements but also matches your core values.
Here are certain points that are absolutely necessary for hiring –
Break away from the regular and age-old process of hiring, especially if it doesn't meet your criteria. Figure out what works for you and hire accordingly.
Whom you hire shouldn't be your sole decision but a team decision. This is especially important for startups.
A resume can be as good or bad as a book cover. You know what they say about judging a book by its cover – never make the same mistake with resumes.
Most importantly, never forget to ask the question – "Are you ready to work in a startup?" A frank answer will save you from troubles later on.
2. It's time to move ahead of the "cogs in the wheel" ideology.
Frankly speaking, how often do you relate happy emotions whenever the idiom "a cog in a wheel" comes to your mind? Yes, it sounds corporative and brings out a certain spirit of discipline, organization, and orientation. However, with employees spending more time at the office than their homes, they need to feel more than that.
Create a work environment that makes employees feel motivated to work and eager to head to the office every day. The work environment differs according to the type of work that goes in the office. However, you can make sure that work never goes off balance.
3. Recognition matters more than you can imagine.

Whenever your startup successfully achieves a milestone, it's a matter of pride and happiness. However, it's not something that is exclusive to an employee. Just the way you want your startup to be recognized, similarly, every employee wants to be recognized for his/her efforts.
Remember, every small thing (maybe a small Employee recognition enamel pins) counts. From verbal appreciation every now and then to giving out the employee of the month, awards on annual parties, and special acknowledgment during completion of projects.
4. Don't miss on the fun quotient.
Lack of energy and motivation are very common problems in the workplace. Especially in a startup – where you can be faced by difficult challenges at any given point. Startups cannot work according to their schedule; they need to work around their client's schedule. Hence, too much workload is a common sight at a startup office.
Beat this gloominess with fun! Incorporate fun in office schedule whenever and wherever possible. From monthly visits to cinemas and local places to yearly trips. Even your daily schedule can have some interesting activities to do. There are many ways to have more fun at work.
5. Hierarchy should not hamper communication.

You'll be surprised to know what problems can miscommunication cause at a workplace. If we have to name one major reason for miscommunication at a workplace – it has to be hierarchy.
Hierarchical structure makes people at a certain level unavailable and inaccessible to people at a different level. When employees feel they are unheard, unappreciated, and unduly judged, it affects the whole working system.
This problem can mostly be tackled only in the starting period of the business. Make sure you create a hierarchy that leaves no to minimum space for miscommunication.
6. Understand how to deal with conflicts.
What's worse than a poor sales period for a business? Conflicts within the team. Recovering from a dry period is comparatively easy than recovering from conflicts within team members.
The nature of conflicts can vary from being solely work-based to personal matters. You need to deal with them with precaution, as these matters can easily upset the work environment of a startup in no time.
Clear mind, unbiased perceiving of the matter, and focusing more on resolution than pinning the blame – these are some of the important aspects that every startup should know about how to deal with conflicts.
Secret Ingredient to team spirit.
The secret ingredient to team spirit that most successful brands vouch by is – ensuring growth for every team member. As your startup grows, it's very important that your employees feel they are growing with it too!
Final Words.

Your startup's success story of becoming a brand is not just in your hands but in the hands of your team as well. Remember, no startup was driven to success by a single person. It's collective efforts that lead to collective results.