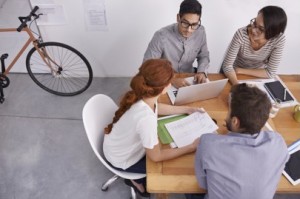 Meetings are a place where your skills are on display and your ability to communicate is essential. Often, meetings are where people form an opinion of you and your work ethic. That is why presenting yourself the right way is an essential stepping stone for success.
Take these tips to maximizing your meeting success:
Look your best.
Dressing for success is not something to take lightly. Looking nice will influence how people see you. Even if you work at a laid-back, casual company, throwing on a button up and nice blazer when there is an important meeting can pay off dividends. During meetings, you are seen by people you work with directly in a room, allowing jugements and observations to be made. You want to take this time to showcase your intelligence, your confidence and your ability to dress the part.
Looking your best doesn't just come down to what you are wearing. Take some extra time grooming on days you have meetings. Shave, comb your hair, take extra time on your makeup — whatever that extra step is, take the time to put your best foot forward so that you look polished, professional and confident as you step into a meeting room with your peers.
Come prepared.
Anything that runs through your mind before the meeting that you want to discuss, print it out and put it in a folder. Instead of having stacks of important paper for you to fumble through, invest in some printed pocket folders. This will show your coworkers and higher ups that you are prepared and have gone the extra mile. Small acts like this will make you feel more put together and speak confidently. This is also a great way to organize your things and transport them.
Another way to be prepared for a meeting is to have handouts to illuminate your work progress. Whether you are in charge of the meeting, or simply an agenda item, having documents with graphs or data illustrating your work is important. It keeps people engaged, helps you tell your story, and will make you look more prepared.
Take advantage of technology.
Taking notes on a Google Doc is an easy way to create shareable notes for the entire group. Your peers will be grateful to know that the important details of large meeting have been documented and are easily accessible. Being the note taker also shows your initiative and ability to take control, while also working together with everyone involved. Technical improvements such as these should be taken advantage of, especially when they are at our fingertips.
Additionally, you can take advantage of the simple voice recorder. This will ensure that you don't miss a thing. If you do trail off during the meeting, you have the entire recording at your fingertips, allowing you to play back the meeting at full speed even if you want.
Be sure to also set an email notification to the calendar appointment to ensure that everyone is on time and ready for business.
Meetings are stressful at times — when you look your best, feel confident, come prepared and utilize technology — then you are already setting yourself up for success. Practicing these tips next time you have a big meeting on the horizon will ensure your confidence and success.