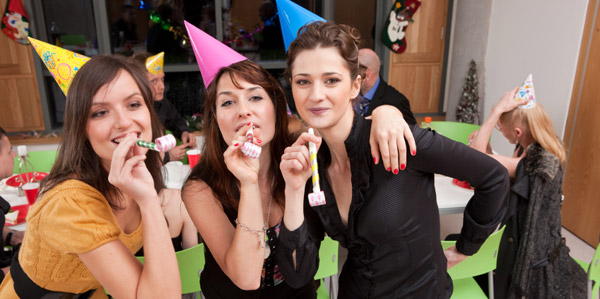 Office parties don't always get a good rep. They're often boring and forgettable – something people try to survive, rather than genuinely look forward to.
But believe it or not, it is possible to throw a killer office party that people remember for years.
4 Things Every Office Party Has. 
When you think about office parties, your mind may immediately gravitate towards one of the unforgettable parties held in the popular TV show The Office. Perhaps you recall the Classy Christmas party when Jim leaves only to find that Dwight has set up a snowman army in the parking lot and is hiding inside one of them. Or maybe you enjoy season two's Christmas party where Michael Scott exceeds the Secret Santa gift limit and buys Ryan an iPod, only to become disappointed when he gets one of Phyllis' knitted oven mitts.
If you aren't into The Office, maybe you remember a party or two that you attended in a previous job. Whatever the case may be, almost everyone has an idea of what a fun office party should look like. And if you're in a position of hosting or planning a party, you certainly feel the weight of good execution.
Whether you have a tiny or generous budget, here are some of the key ingredients to an unforgettable office party:
1. A Clever Theme.
Every good office party has a theme. While the holiday may dictate the overarching theme, there's plenty of room for making each theme unique. Take Christmas parties, for example:
A classy Christmas party is always a nice idea. You'll have some people who will dress up in cocktail attire, as well as others who put a humorous spin on the idea and wear hilarious Christmas suits.
A holiday traditions party is a good way to get to know each other better. Ask everyone to contribute one holiday memory to the party. This could be a favorite dish, a holiday festivity, a favorite soundtrack, or a classic movie.
If it's a general office party with no holiday theme, you have even more flexibility. For example, you could try:
A fair-themed office party with cotton candy, popcorn, ring toss, and other games is perfect for late summer or early fall. This also makes for a great opportunity to have employees bring their families.
A murder mystery party is always fun and can be a fantastic way to get people involved in something as a group.
You'll obviously be limited in what you can do, but having a specific theme always makes an office party more memorable.
2. Good Food and Drink.
Every party needs some good food and drink. If you don't have time to make food, bring in a local caterer or grab some pre-made items from a nearby supermarket with a good bakery and deli. As for drinks, be sure to have a nice mix of alcoholic and non-alcoholic beverages so that everyone is able to enjoy themselves. (If there is alcohol, you'll want someone to play the role of bartender. This will help prevent employees from becoming too inebriated.) 
3. The Right Timing.
Timing is always important for an office party. Most people won't want to attend on the weekend (since it's their time away from work), but you also don't want to host one in the middle of a workday when people should be maximizing productivity.
In most cases, the best time to have a party is during the last hour of the workday. This permits people to get their work done and then enjoy the event. 
4. A Social Activity. 
Every unforgettable party needs some sort of event or activity to bring everyone together. This could be a game – such as Secret Santa – a team-building challenge, or a competition. Just make sure it has elements of luck and skill. Otherwise, you'll inadvertently ostracize certain people. 
Start Planning Today.
The key to a successful office party isn't a big budget or lots of flashy decorations. Instead, it's thoughtfulness and careful planning. By accounting for elements like theme, food and drink, timing, and activities, you can ensure people have a good time and remember the event for years to come.