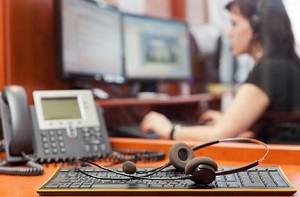 Just a couple of decades ago, online shopping was something that was almost unheard of. Although Amazon and eBay existed at the time, they weren't very big, and very few small businesses sold their goods online. However, in recent years, this has completely changed, with more and more people choosing to stay at home and do large amounts of their retail therapy over the internet. This growth means that ecommerce companies need to do more to stand out and stay ahead of competitors.
With that in mind, here are twelve ways you can improve your ecommerce customer service.
1. Make Website Navigation Easy.
When your business is based online, it should be no surprise that most of your customer service relates to your website and its design. To keep your customers happy and on your site, you need to ensure that it's professional, clear, and easy to navigate. This means including a list of categories for them to browse and a search bar for when they have something specific in mind.
2. Keep Contact Information Accessible.
If you have a question or something goes wrong when you're out shopping, all you need to do is talk to a member of staff. Ideally, your website should be no different. Although customers can't speak to someone face to face, they should be able to find your contact information easily. This way, they'll be able to get support quickly and have a much less stressful experience.
3. Provide Real-Time Help.
Emails and phone calls are popular ways to contact companies, but, when a customer is confused or upset, it's much better that you help them right away. For this reason, you should consider adding a live chat tool to your ecommerce site. This will allow you to engage with customers instantly, increasing the chances that their problems will be resolved.
4. Create A FAQs Page.
As important as it is to offer your support, some site visitors and customers would rather try to help themselves first. Thankfully, you can make this process easier for them by adding a frequently asked questions page (FAQs) to your website. This will help your customers a lot and also ensure you don't have to waste time answering the same questions over and over again.
5. Have Compelling Product Pages.
Online shopping is incredibly convenient, but that's not to say that it's without its drawbacks. One of the main reasons people resist buying things online is because they can't see the product in real life. This makes them nervous, as they're unsure exactly what it looks like and what it does. Because of this, it's crucial that you write detailed product pages and include clear images.
6. Write Clear Return Policies.
Unfortunately, even with your compelling descriptions and pictures, there are going to be instances where your customers aren't happy with what they've purchased. For this reason, you need to ensure that you have clear warranties and return policies. This way, potential customers have no reason not to buy from you, as they can always return their purchase if they need to.
7. Simplify The Checkout Experience.
Filling up an online shopping cart is one thing, but actually going through with the purchase is a whole different story. If your checkout experience is too long or complicated, you're going to lose out on sales. To avoid this, you should make the process as easy as you can, by including as few steps as possible and offering multiple payment options, including PayPal.
8. Keep Track Of Inventory.
When you sell your products on a number of different platforms, it's absolutely vital that you keep track of your inventory. If you don't, you could end up over-selling, which means disappointing your customers later on. To make this task easier, you should invest in an inventory management system. This will update every channel when one of your products is out of stock.
9. Consider Providing Free Shipping.
It doesn't matter whether your customers are buying five dollars worth of stuff or five hundred dollars worth of stuff, if they go to the checkout and see that shipping is another five, they aren't going to be happy. To avoid missing out on a sale, you should consider providing a free option for shipping. It may cost you some money right now, but it will be worth it in the long run.
10. Offer Quick Delivery Options.
Whether you're buying in-store or online, most shoppers possess a "want it now" mentality and can't bear to wait too long for their goods to be in their hands. For this reason, you need to offer fast delivery options, including a next-day slot, if possible. If customers know they can buy from you and receive their shopping quickly, they'll be more than happy to come back in the future.
11. Don't Make False Promises.
That being said, you shouldn't advertise quick delivery unless you're actually going to deliver on this promise. Even if it will take months for your customers good to arrive, it's much better that they know this now, rather than later. If you're shown to make false promises or outright lie to your customers, then you'll be deemed untrustworthy, and no one will want to shop with you.
12. Send Post-Purchase Emails.
We have all had to deal with annoying marketing emails for months after buying something online. If you want to keep your customers happy, then don't be like that. Instead, send useful post-purchase emails, containing shipping details and valuable deals and offers. This will keep your business in customers minds and show them that you care.
13. Ask For Customer Feedback.
To truly offer the best customer service you can, you need to get into the habit of asking every single one of your customers for feedback. Some of this may not be particularly positive, but even negative comments help you to learn and your business to grow. If you're struggling to get feedback from your customers, then offer incentives and rewards, like exclusive discounts.
Customer service may not be your favorite activity, but if you want to keep your business up and running, then it's important nonetheless. Hopefully, with these tips, you'll be able to keep your customer happy and coming back for more.