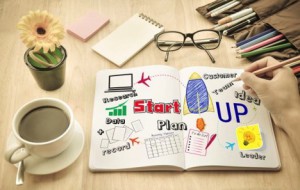 Starting a small business can be quite daunting but rewarding if you manage to make it work.
If you have an idea for a small business that you'd like to start but aren't sure how to get going, keep reading to find out our 4 simple steps.
Write A Business Plan.
Before you get started, it is important that you come up with a solid business plan to guarantee success.
Jumping in right away might seem like a good idea at the time but it is likely that you'll waste money and time. Planning is so important and when you write a business plan you'll be able to figure out exactly how much money you have to spend and how you are going to spend it. Take the time to plan, be realistic and you'll thank yourself later.
Keep Initial Costs Low.
When you are going through the planning stage, you will probably decide on the budget that your business will have. It is very important that you stick to this as closely as possible because spending too much money at the start can sometimes cause businesses to never take off. Think about where you can cut costs like reducing the number of staff you have for a while by using freelancers. You could also start your business from home – cutting costs on rent. Think about converting your garden shed or investing in steel buildings for your home office.
Get Yourself A Website.
Having a website for your business is very important across the world. If you want anyone to know about your business, you'll need to get a website set up as soon as possible. Start by registering a domain name that is relevant to what your company is called or what you do. If you have the skills to create a website, then go ahead and get it done but if not, you might want to wait until you can afford to pay a professional to create one for you. Whether you're looking to build the next Leadpages or just want to share your thoughts with the world, a website is a must-have these days. Without a website, you'll have no way to connect with customers all over the world.
Create A Marketing Campaign.
Once you've got a location and some of your business up and running, you'll want to market your product or service. Creating an effective marketing plan is so important if you want people to hear about your business and get customers on board. Make sure to consider social media websites like Facebook and Twitter when doing this as you'll be able to target your customers using these. Don't worry if you're not experienced in this because there are tools that will help you create and schedule posts.
Final Thoughts.
If you are going to start your own small business, make sure to follow these steps to ensure success. Many people waste a lot of money due to a lack of planning so don't let this happen to you as well. Save costs, work from home if you can and soon enough you'll find that your dream business is up and running.