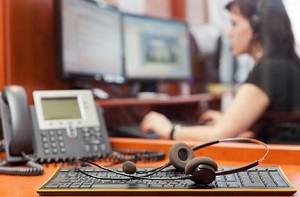 No matter how advanced technology gets, there are some parts of providing comprehensive legal service that will never change. One of those is having reliable attorney answering services. Even in an age of mobile phones, having a professional service to field calls from clients, potential clients and court officials will help you provide better representation and prevent unintended consequences should you become personally unreachable for any reason.
This particular service is especially essential for a criminal defense lawyer and those in the midst of cases where losing touch could mean losing a client or blowing a deal.
Answering Services Offer Flexibility, Confidentiality and Organization.
Even the best receptionist or most diligent legal professional can't be at your law firm 24 hours a day. Many practices contract an outside company to handle after-hours calls for that reason. An experienced answering service realizes the importance of dependability, attention to detail and confidentiality. They also know that each attorney has their own way of representing clients and preferences for handling calls.
Down-time can be dangerous for your clients and your reputation. What you should look for in a service is one that has current, scalable technology, preferably with their own server or a fully managed one. Legal call intake services should also have a flexible, customizable set of protocols to make sure that you never miss a call. Using intuitive technology, a modern service should be able to identify calls by several criteria that's pre-determined by you. For example, your call service can be set to take calls when you're out of town or in court, and even let you know when a specific client or judge calls. The services can include:
Identifiable thresholds to distinguish urgent calls from routine inquiries
Automatic notifications by email or SMS
Accurate call logging by time and date
Categorizations by client type, time, day or call type
Answering Services Provide Transparency.
Since all calls are automatically recorded, you have built-in transparency. This is especially important when what is said or times and dates might be in dispute. With a secured call-in feature that only you can access, you can obtain any information about your calls at any time.
Answering Services Provide An Archival Record.
With a good service, no information is deleted at any time. In fact, you should be able to archive all information by several identifiers for easy access and cross-referencing. That provides you with an accurate record for evidentuary purposes or backup documentation.
Bonus: You'll Look Good to Clients, Your Associates and Other Law Professionals.
Your legal call in service is an extension of you. The rumpled attorney with a pile of folders and papers doesn't exude confidence. Don't be that lawyer. Automation makes legal answering services more efficient, accurate and cost-effective. You'll look more professional to your clients, which gives them more confidence in you. They'll actually feel like they have a representative who cares about them and not about just collecting fees. Your associates in the legal professions will be impressed with your level of organization and ability to get more done.
How to Find an Answering Service.
Call in service is an important part of your practice management. Choosing well will demonstrate a noticeable impact on your firm and give you an edge in a very competitive profession. You'll want a service that has live, 24/7 call answering, not automation that redirects incoming calls to a recording or answering machine. You also need to find one that can handle your call volume. Paying extra for a service that handles high volume from larger firms is no good for your bottom line if you're a small, sole practitioner. On the other side of the equation, you don't want to contract with a firm that doesn't have the capability to handle your business if you're a partner at a large or particularly busy firm.
One of the main selling points of high-quality law practices is responsiveness. When your clients' money, property or freedom are on the line, you need a reliable means of contact 24/7/365. Using the above as a guideline should help you find the kind of call in service you need to provide more timely and accurate representation.