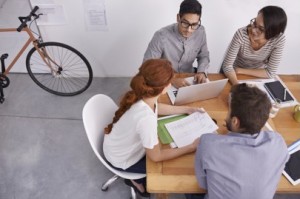 Conversion optimization is a vital aspect of a business that business owners must understand. But did you know that a simple client response can improve your conversion?
A website is not a mere tool to let the world know about your business. It must go hand in hand with your offline operations such as customer support and marketing initiatives. How? One strategy is conversion rate optimization (CRO). CRO is simply a set of techniques that drive traffic into a website and convert it into leads and sales. CRO is about maximizing existing traffic. The conversion can take place all over the site such as the homepage, blog and landing pages.
Your conversion rate goal.
For start-up businesses, CRO is a cost-effective way to boost the bottomline growth. But how do you know if you're on the right path? Ben Cotton, sales enablement boss for HubSpot in EMEA, stresses that generating more traffic isn't necessarily the way to go. "Conversion rate optimization is about getting more from what you have and making it work even better for you," he wrote. It can help to identify the right conversion rate formula that will provide you with a target. HubSpot offers the following formulas:
New revenue goal ÷ average sales price = # of new customers
# of new customers ÷ lead to customer close rate % = lead goal
Leads generated ÷ website traffic x 100 = % conversion rate
Should you use industry benchmarks? Benchmarks can give guidance, but they lack context on what to measure and whom they target. They don't suit unique needs of businesses.
The power of lead generation.
Once you've identified the conversion rate for your business, you should explore lead generation strategies. Not every site visitor is a lead. A lead is someone who indicated interest in your company and/or offerings. In other words, he/she is a prospective customer. Leads generation is the process of driving visitors to your site and converting them into leads.
Lead generation is regarded as the second stage of the sales process. It occurs after you've attracted traffic to your site. Remember that not all visitors are leads but all leads start as visitors. Some widely-used lead generation and management tools include forms, calls-to-action and landing pages.
Make or break with your lead response time.
A study by Autodeal shows that the increase in sales conversion is achievable by improving your lead response time. Put yourself in the shoes of your leads. How long are you willing wait for a response on your inquiry before you go to the next company? Lead response time is a measure of how long a business follows up with a lead that contacted a business through a phone call, email or online form.
The lead response time may vary per industry. A study suggests that car dealers responding in 6 hours of less were improving their conversion rate by 40 percent. A dealer that responds in an hour or less has a 48 percent higher chance of closing a sale compared to a dealer that answers back after more than 24 hours. Cars are big purchases so a response time of a couple of hours is acceptable. It may be a different story with smaller purchases such as clothes and electronic gadgets – five minutes!
However, many businesses are neglecting their lead response time. In a study involving more than 2,200 US businesses, 37 percent responded to a web-generated test lead within an hour, 16 percent answered within one to 24 hours and about 24 percent replied back after more than 24 hours. Interestingly, 23 percent of the businesses never responded at all.
Increase sales via lead response time.
Leads generation costs money. So why are businesses not responding on time? Businesses may be focused on driving traffic and accumulating names instead of responding quickly to leads. Another reason could be the process of distributing leads to the sales force which is based on territory and "fairness."
There are ways of keeping you in your lead's radar, or vice versa, even when you're not available to answer right away. You can set up a lead alerts system. This will prompt an instant response to the lead acknowledging the inquiry and providing a service expectation for the response from a real person. Think of how Facebook business pages work. You can get notified through your smartphone, tablet or laptop.
After sending the automatic acknowledgement, make sure that you comply with your promise. Respond within the given service expectation. You may use the same platform used by the lead unless a specific mode is provided. A lead truly interested in your offering will likely provide you with a phone number for easier communication.
The Internet has made it easier for customers to shop around, and compare and contrast offerings. The competition is tighter than ever. As a start-up business owner, you should know how to stay in the game. Let your conversion rate optimized website help you.