5 Tips For Launching An Events Management Startup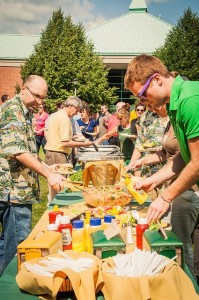 If you're naturally amiable and have a knack for entertaining, coordinating excellent events could be your calling.
But whether you're organising a corporate event or village fete, you'll need a few essentials before you start operating.
So here are five tips for launching an events management startup.
Van.
Your first buy should be a van — you can't transport heavy gear in your car.
As your business expands, the amount of equipment required will increase — so it's best to grab a great deal on a large-payload vehicle from the start.
A Mercedes-Benz Sprinter with Luton body can store outsized items and has a handy tail lift that makes loading and unloading effortless.
And you can drive this van with a normal license — but take time to get used to it.
Marquees.
Some of your events will take place in permanent physical venues like hotels, conference centres and village halls.
But temporary structures like marquees can add a different dimension to a wedding or product launch — guests can stay dry while savouring the great outdoors.
Online provider The House of Tents sells reliable options in various sizes, styles and colours — pick the best option for your target clientele.
And practice pitching your new purchase at home before your first job — you'll need to move swiftly and confidently erecting it onsite.
Portable heaters.
If you provide a marquee without any provision for heating, your guests won't hang around for long — especially at a chilly Highland ceilidh.
So a durable portable heater is definitely a worthwhile investment and there are various options available.
Arcotherm has a range of new and quality pre-owned models that are particularly suited to events management activities.
And including this service means you can serve clients all year round.
Inflatables.
Children's parties and local galas can offer lucrative income streams for any type of party organiser.
And if you want to appeal to this market, you'll need to invest in a few exciting inflatables.
Airquee is Europe's largest manufacturer and offers traditional bouncy castles as well as blow-up pubs, slides and even entire obstacle courses.
Kids (and some adults) love inflatables, but injuries aren't uncommon — supervision is recommended.
Catering.
If you're a qualified chef experienced in prepping food for large numbers of guests, you're in a prime position to add event catering to your selection of services.
But if not, making mistakes with food hygiene can be deadly — so it's safer subcontracting to an experienced local firm.
The National Caterers Association has a free online registry where it's easy to find the perfect firm based on criteria like event type and food specialisms — choosing one of their recommended suppliers should provide you with peace of mind.
Follow these five tips for launching an events management startup and you'll soon be the go-to company for anyone who wants to celebrate.
Do you run an events management company? Share your tips in the comments section.

Young Upstarts is a business and technology blog that champions new ideas, innovation and entrepreneurship. It focuses on highlighting young people and small businesses, celebrating their vision and role in changing the world with their ideas, products and services.