by Derin Alemli, founder of Down Beats and Square Roots Kitchen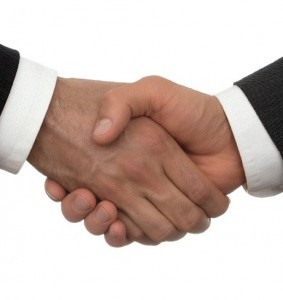 Jason and I met seven years ago through a mutual connection. When I first met Jason, we clicked right away. I could tell that he was motivated, smart, and not afraid of hard work. While we were both entrepreneurs, we operated in different realms. Jason ran a successful technology business and I was operating my own business, downbeats. As an entrepreneur you are always on the go and I was frustrated by the lack of healthy food options in Chicago. That initial frustration led me to opening up my own catering company.
Three years later, when I saw there was a demand for my catering business to expand, I decided to launch a storefront. I wanted my restaurant to be forward-thinking and one of the ways I could do that was through technology. From the start, I knew that I couldn't master this task alone. I needed someone who could do what I couldn't. That person was Jason. Jason had the know-how I needed to create a seamless and hi-tech experience for my customers. We decided to partner and together we launched the brick and mortar version of my catering company, Square Roots Kitchen.
From this adventure, I learned a few things about what it takes to make a business work with a good friend. Here are my top three tips:
1. Opposites Attract.
Since Jason and I operate in different aspects of the business, there is no risk of us stepping on each other's toes. I run the business side of the restaurant while Jason is in-charge of the tech. If we were both trying to manage the same thing, then both the business and our friendship might suffer. Therefore, it is better to find a friend that works in a different space than you so there is no risk of interference.
2. Trust is Key.
While it's always important to trust those around you, it's essential to trust your partner. Moreover, you need to have faith in your partner's skills. You must fully believe in their abilities. It's also important to hire your friend for the right reason. Giving someone a job to be nice will always backfire. Instead, look for qualifications that make them a good fit for your business.
3. Have Set Roles.
Jason and I have a lot of respect for each other and like to collaborate on ideas, but we also have very different roles in the restaurant. After the launch of the store, we have both fallen into a routine that is best suited to our skills. Doing this is crucial to running a business and maintaining a strong friendship. If you're strategic about starting a business with a friend it doesn't have to change your relationship. Of course there are times when you have to get real and have business conversations.
When things are stressful it helps to have a solid friendship, as you already have a foundation of trust. Remember that effective communication is important in all relationships, and that's no different in business relationships. If you have a successful business your friendship can grow even stronger for it.
After finding success in hedge funds, Derin Alemli chose to start his own business Down Beats, a brand of ear plugs for the concert market. Down Beats was, and continues to be, a great success for Derin. He went on to open a catering business, Square Roots Kitchen, in 2015. Partnering with a friend and fellow entrepreneur, Jason White, Derin debuted their high-tech, fast casual storefront in January in Chicago's West Loop.