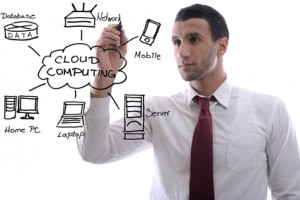 Over the years, the cloud has evolved into a dynamic tool which any company of any size can tailor to suit its own specific needs. But within certain industries, businesses have been getting more use out of the cloud than others.
More start-ups are beginning to opt for cloud based solutions as a cost effective yet efficient way to satisfy their business needs. The reason for this shift is thanks to the many distinct benefits that businesses, regardless their specific industry, can enjoy from making the best of cloud-based services.
From small businesses targeting local audiences and with ccTLD websites like .co.uk; .fr; .au as well as NZ domains to established brands, these are industries in which the use of cloud computing has been yielding great benefits for businesses.
Financial sector.
The financial sector covers everything from banking to insurance. Some startups are sceptical using cloud based solutions for their operations in the financial sector because they are concerned about security.
But other financial startups who are thriving in the financial industry have proven that security isn't a problem as long as a business signs up with a reputable cloud computing service provider. Such providers can guarantee security features such as data encryption, maximum security data centres, and limited access credentials for confidential data, and more as standard.
With this level of security, finance start-ups are performing transactions and other daily activities with ease and comfort. Now, with cloud accounting tools and online loan options such as LendGenius, companies can do business from anywhere and expect better value, security, and support services.  
Automotive industry.
This industry is one that is often heavily reliant on a constant stream of data. With cloud based solutions, steady connections that allow for fast, smooth, and secure transmission of data across networks are assured and so make the option the go-to for upcoming businesses.
Another attraction of cloud based solutions is the pay-as-you-go scheme which promotes cost effectiveness by ensuring a company need only pay for services it has actually used.
With the cloud, automotive companies can easily store inventory and additional data, as well as conveniently access or utilise it all from one easily-accessible location. This not only makes life easier for start-ups in the industry, it also makes it more efficient.
Healthcare sector.
For a long time, the healthcare sector was unenthusiastic about switching to new technology such as cloud based solution due to concerns about its stability and security. These fears have been gradually laid to rest over the years with breakthroughs in cloud based systems as well as an increasing number of businesses in the healthcare sector who are satisfied with the quality of current cloud services.
One clear advantage that start-ups in the healthcare industry are enjoying from cloud based solutions is the ease of storing vital information, sharing it, and collaborating with medical practitioners or companies anywhere in the world via cloud systems.
Tasks that were once stressful can now be done online from anywhere in the world including making referrals or providing patient history. And all this come together to make it easier for upcomers in this field to pay better attention to patients and boost their reputation within the field of healthcare.
Legal sector.
This is one interesting sector where firms require lots of data storage space that can securely hold massive file loads which can be accessed by authorised personnel at any time. Cloud based solutions make this extremely easy and less costly for upcoming firms in this field with advanced backup features and recovery options. The service also provides for easy scalability so that law firms can get more storage space or less storage if and when it's needed.
Education sector.
The cloud is proving to be an invaluable solution in schools. Education constantly deals with tight funding situations, a problem that the cloud can directly alleviate. It's important for schools to have access to the latest technology in order to provide the best education possible. With the cloud, students can access the information they need all in one place and teachers can distribute assignments with greater ease.
Hospitality industry.
Cloud based solutions provide an agile computing environment, which can be adapted to suit the needs of startups in the hospitality industry during peak business periods or off periods. This scalability allows for fast processing of customer requests as well as makes it possible for such businesses to have all the computing technology they need without having to spend extra on hardware upgrades to meet the needs of an increasing clientele base.
Production industry.
In the manufacturing sector, start-ups need to cope with the constant management of supply chains and diverse locations which need complex database applications. The right cloud based solution provider can make things easier by making it possible for businesses to connect with whoever necessary and deliver necessary infrastructure. And even though such services will be used frequently and copiously, cloud based systems can still ensure cost-efficiency by eliminating a variety of capital expenses and operating costs.
Real Estate.
The real estate industry requires that companies operating in the field stay constantly up to date about what's going on in the market. Cloud based solutions make it easier for start-up companies to keep an eye on personal listings and updates on new properties. This service is beneficial regardless if the start-up is an agency firm, brokerage or title company.
Non-Profit.
How cloud based systems help in this sector is quite straightforward in the sense that it simply helps cut costs. Since non-profit organizations aren't about making money, they need to be as cost effective as possible and cloud based technologies facilitate that in more ways than one. It also provides the advantage of providing the means for a non-profit organization to expand as necessary by providing scalability.
Conclusion.

Cloud based systems have so much to offer various businesses within different industries and the benefits provided can be enjoyed by all, be it a major corporation or an upcoming enterprise. The important thing is to get the right cloud based services from the right provider in order to guarantee the ideal quantity and quality of service is being provided.