How To Make The Most Of Your Small Startup Office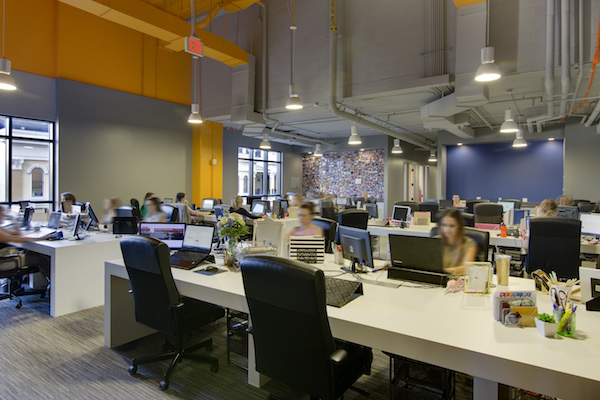 When you first launched your business, you were full of ideas about the office you were going to open, complete with nap pods, gourmet staff cafes and hi-tech break areas to make Google's headquarters look naff.
And then you started looking at rent and square footage and locations, and very quickly you realised why most dream offices never actually become a reality – and it's all to do with money.
Yup, commercial premises don't come cheap.
After lowering your expectations and reining in your imagination, you've managed to find a new pad that ticks the most important boxes (basically, it's within budget and doesn't involve too long a commute).
Practical it may be, but sizable it certainly is not – and you haven't even moved in all your equipment and staff yet.
Before you do, here are a few top tips for effective and clever space management that'll help you make the most of whatever room you've got to work with. Check them out.
#1: Get the interior right.
A small office may not offer tons of room for big team meetings or gigantic desks, but it doesn't have to feel cramped and claustrophobic, not if you follow a few basic space-enhancing interior design rules.
Go for neutral colours on the walls, keep curtains or blinds white (to let more natural light in) and dot a few plants around. Allowing some greenery into the workplace has a great mood-boosting effect, so even if everyone's on top of each other, they'll be too relaxed to care (hopefully).
#2: Add more space.
Are you already worried about where you're going to store stock, paperwork and packaging? We've found a solution for increasing the square footage of your commercial premises (giving you a whole new storage area to fill) that doesn't involve a costly and time-intensive extension.
A much simpler but equally as effective option is installing a mezzanine warehouse. Get in touch with a specialist company, like Invicta Mezzanine Floor, to learn how you can better utilise high ceilings and create a whole new level of floor space in your building.
#3: Keep desks organised.
Once your office is filled with all your hard-working employees, overflowing desks and piles of random paperwork can quickly get out of control.
Encourage good housekeeping habits from the start to keep unsightly mess at bay. Supply desktop storage solutions, buy a load of cable organisers (look online for the cheapest deal) and provide coat and bag hooks near the door to stop personal belongings cluttering up floor space.
#4: Don't sacrifice on comfort.
You want your staff to enjoy being at work (well, as far as possible anyway), so although you're trying to save space, don't totally throw comfort and style out the window.
No matter how small your office is, create a break area to encourage everyone into healthier working habits and focus on ergonomics rather than size when setting up workstations. Sacrificing storage space for a comfortable and supportive desk is definitely a wise move in the long run.
Have you got any other top tips for startups trying to make the most of a small office? Leave a comment and let us know.

Young Upstarts is a business and technology blog that champions new ideas, innovation and entrepreneurship. It focuses on highlighting young people and small businesses, celebrating their vision and role in changing the world with their ideas, products and services.