by Farid Dordar, CEO and founder of PerfectMind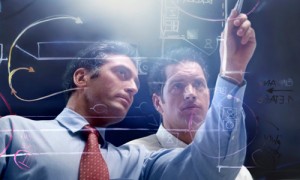 New businesses with limited capital and resources are often faced with many difficult budgeting decisions. These decisions are made with the best intentions (to maximize value and minimize risk) but may have the opposite effect. One of the assets frequently sacrificed is software purchasing. In an attempt to keep costs down, many business owners elect to purchase standardized business tools like Microsoft Excel or Intuit Quickbooks.
It quickly becomes evident that the lack of integration between these tools combined with missing features can have a significant impact on productivity and costs in the short- and long-term.
Life with Software Integration.
Cherry picking different applications to manage different tasks can cause different teams or departments to become siloed within a business. Like patchwork, each piece of software added builds up a system with poor planning and coordination which inhibits flexibility and productivity. In turn, this inefficiency slows down the entire business' ability to grow. Because different software solutions don't interact efficiently with each other, complications and inefficiencies between teams quickly accumulate.
While these initial growing pains may seem manageable, the inefficiencies and missed opportunities rapidly accumulate as soon as the company begins to scale. Key reasons why software integration is essential for new businesses:
1. Increasing Efficiency and Employee Productivity.
An integrated software system eliminates redundancies that contribute to a business system with siloed departments. Efficiencies and productivity increase quickly once teams are able to utilize a software solution that enables cohesive collaboration. Instead of having to hire new people to accommodate the increasing workload of a growing business, the right software solution can automate tasks reducing the need to increase headcount. Repetitive manual tasks and administrative work can require considerable employee hours to complete. Time previously allocated to these tasks can now be spent on more integral revenue-generating or customer service activities.
2. Preventing Errors by Automating Routine Processes.
By choosing an integrated software solution, routine operational tasks such as order management, fulfillment, billing, and invoicing, can be automated and streamlined. There may be one team that spends hours manually inputting information into the accounting and invoicing system, while others are pulling that same data from the CRM (customer relationship management system) for order fulfillment processes and to calculate sales commissions. If any orders were changed or cancelled during this process, there would be errors and even more work to reconcile the mistakes.
3. Making Data-Driven Decisions.
Misinformed business decisions can be detrimental to a new business resulting in profit losses, poor customer service, and missed market opportunities. Real-time visibility is another benefit of an integrated software system. With accurate insights and interconnected applications, businesses can access key performance indicators at a moment's glance, keeping agile and staying focused. Businesses can minimize human oversight and save time on manual reporting and calculations.
Ongoing IT costs are reduced as well since a single system is cheaper to maintain than multiple ones. Scaling your organization can often be achieved more rapidly and affordably with an integrated system.
4. Saving Time with an Integrated Platform.
Retrieving information from multiple applications, logging in to different tools and switching between different systems monopolizes your employees' valuable time. By integrating third-party back-end systems, all departments in the business can continue to work with the same databases or applications.
Planning and implementing software for a business can be one of the most important decisions made by any new business. Reducing costs, making informed decisions and providing the flexibility required for future growth are just some of the key benefits that come from the early decision to implement an integrated software solution.
Farid Dordar is the CEO and founder of PerfectMind, an industry-leading membership management and facility booking software solution. Farid grew his own self-funded software start-up to a Profit 100 company with clients in over 21 countries. He has consulted with hundreds of businesses and public sector organizations on change management and software integration best practices.