By Jay DesMarteau, head of small business and government banking distribution for TD Bank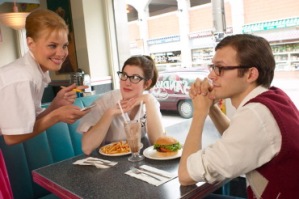 The holiday season has begun, and small business owners in the retail and hospitality industries are operating in what is often their busiest time of year. In fact, the National Retail Federation states that the months of November and December alone may account for 30 percent of a retailer's annual sales.
While many small business owners made preparations such as hiring support staff, placing advance orders, checking inventory and promoting their business, they may not have thought through one important element – how to ensure these holiday customers want to come back long after the season is over.
While the holidays can be unpredictable, small business owners can navigate these waters by focusing on keeping their customers happy. Ensuring customer satisfaction is especially important as repeat customers spend 67 percent more money at a business than new customers, according to research from BIA/Kelsey and Manta. Return customers are also more likely to refer new business through word of mouth.
When it comes to customer satisfaction, saying "thank you" is a key component. According to TD Bank's The Art of Gratitude Survey, 77 percent of consumers surveyed like when companies or brands demonstrate their gratitude. Making appreciation feel personal can be tough for larger companies who lack the agility to quickly react to customer issues or struggle to build personal relationships with customers. This is one area that small businesses have an advantage, as they often can devote more attention to each customer and extend appreciation that will make them want to keep coming back.
First, the focus should be on the front line – the staff. Small business owners should spend time training their employees to express gratitude at each transaction. Front-line or service employees especially interact with customers on a daily basis, so their buy-in is essential. These personal exchanges are highly valuable, with 84 percent of those surveyed by TD Bank citing that they prefer an in-person thank you. Etiquette expert Lizzie Post of The Emily Post Institute also shares, "In-person exchanges have the highest impact when it comes to thanking customers because all the senses are engaged. A genuine expression of emotion provides the greatest effect when it's coming directly from one individual to the other."
When in-person interactions are not possible, regular customer communication via other mediums is crucial.
"Communication is key to creating customer loyalty," Post said. "The customer's experience should continue even after they leave the business, creating a desire to come back again and again."
Among the consumers surveyed by TD Bank, 39 percent stated they prefer a phone call, while 33 percent prefer email as the best methods to convey thanks. However, when it comes to mobile-savvy Millennials, 44 percent said they prefer a text or emoji "thank you." Given the difference in preferences, small business owners should try to personalize each acknowledgment by including details about the customer and his or her transaction and keep updated contact information for customers to receive these communications.
Creating a customer loyalty program is another way to show appreciation and build a repeat customer base. Once popular among big-name brands, loyalty programs are easily managed and tracked through integrated payment and sales platforms like Clover for small businesses. Creating a points system that tracks purchases is a great way to engage consumers, since one-third of them prefer their thanks in the form of rewards. Additionally, nearly 40 percent of Millennials and Gen Xers like freebies as a "thank you."
In today's world where options are seemingly endless, building a loyal customer base is essential, especially for small businesses. Beyond showing appreciation, saying thank you builds trust and creates a personal connection between the business and the consumer. Developing a tight-knit relationship with customers is key to staying ahead, especially during the busy holiday season.
Jay DesMarteau is the head of small business and government banking distribution for TD Bank. DesMarteau leads teams that provide in-depth expertise for unique, small business customer sets of the regional commercial bank at TD. His group provides small business banking products and services across a variety of industries, including the healthcare and restaurant franchise industries.