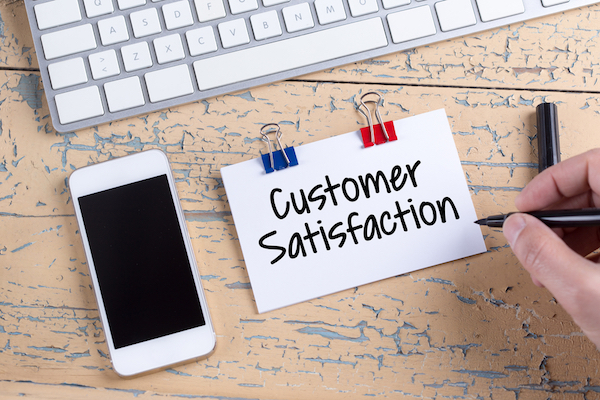 All businesses want to know how they can improve their customer satisfaction. But only a select handful ever get it right. There's a wealth of information on the subject, but often that can be a hindrance rather than a help. When you're overloaded with information, that's usually the time to turn to the science.
Here we're going to look at what the research suggests best drives customer satisfaction. Let's have a look at what it recommends:
Make It Really Easy To Pay.
Ecommerce websites are right now battling against the "abandoned basket" problem. Every day, thousands of customers ditch their baskets, just as they're about to checkout. The reason is that there isn't a seamless solution to the online payment problem yet. It's time-consuming, boring, and requires that users switch between platforms.
Abandoned baskets are a cautionary tale for businesses elsewhere. They provide data proving that when it's hard to pay, customers won't bother. Today, many consulting firms charge a flat, up front rate. This is great in an economy where people have savings and businesses have good cash flow. But when cash flow is poor and savings are few, it can be disastrous. It's tough to pay for something when you've got no cash in the bank. Small businesses need to recognize that consumer financing solutions are probably the only way to go. Customers want to be able to pay for products out of their incomes, rather than their savings. And so companies need to be proactive when it comes to consumer finance. There should be options to pay in instalments for as many of your products as possible.
Insert A Human Touch.
The best evidence we have right now suggests that the human touch is an essential part of making customers happy. Customers want a warm and friendly experience when they come into contact with your company.
The data suggest that the companies that do best here are the ones that hire the best agents. Finding the right agents can be difficult. But experts now recommend that when it comes to hiring agents, you ignore the CV. Focus on the interview and meditate on how the applicant makes you feel. The chances are, if they make you feel good, they'll make your customers feel good too.
Make Support Easily Accessible.
Companies are finally beginning to understand that support is as important as sales. Without customer support, it's hard, if not impossible, to build lasting relationships with their clients.
Small businesses should always be open to their customers and allow them to bring their questions and concerns. Your contact details shouldn't be hidden away on a contact page. They should be front and center on your website. You should also actively welcome the asking of questions. For instance, accounting software firm, Freshbooks, has it's phone number in its website header. The banner asks, "any questions?" followed by the phone number to get in touch.
Companies also need to make support available over multiple channels. This includes social media, as well as other platforms like YouTube. Add a chat function on your website too. This will enable customers to immediately clear up any misunderstandings they might have.