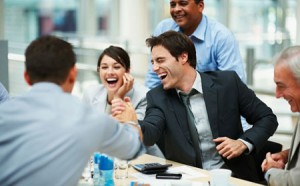 You might pride yourself on your winning ability to sweet-talk sceptical investors and difficult customers, but even the most finely tuned people skills will only take you so far when it comes to running a successful business.
According to data collected by CB Insights, a divided and conflicted team is one of the top 20 reasons most startups fail. Putting infrastructure in place to look after the needs of your employees and keep them happy is a task you can't afford to exclude from the to-do list, no matter how full it might be.
A proper, strategic approach to HR is the only way to ensure a long-lasting and harmonious workplace.
To give you a helping hand, we've compiled a simple guide to the HR basics you should be investing both time and money into as you launch your business and start building your team.
#1: Find the right mix of people.
A diverse team of talented people will be your secret formula for success. Finding the right staff requires a thorough understanding of what your customers want and your company's current weak spots. Once you know this inside out you'll be able to pinpoint the qualities and skills employees need to have.
It's also important to consider your size. Smaller companies will need more flexible workers willing to take on a range of tasks, whereas bigger staffing budgets allow employers to hire different people for every specific job.
#2: Take care of administrative tasks.
Whether you're hiring one employee or 30, contracts have to be drawn up for each and every person. Besides being a legal requirement, a formal agreement of roles and responsibilities will keep everyone on track.
Make sure you cover everything from working hours to annual holiday entitlement, and have a lawyer give them a look over to double-check everything meets regulations. It might cost you a penny or two, but it's definitely cheaper than breaking the law with a dodgy contract.
#3: Keep up-to-date with wages.
Any mix-ups come payday and you'll quickly find yourself at the mercy of your angry employees. Put the organisation of wages at the top of your HR priorities, including the creation of a comprehensive policy regarding overtime.
Cleary communicate when and how you'll pay each member of staff, and take advantage of current software including global payroll solutions to streamline the process. Doing so will guarantee that payday runs smoothly both now, and in the future as your startup expands.
Just remember that any initial investment involved will be well worth it in the long run. Master these HR basics and you'll build a thriving business, with a happy and productive team of employees at its centre.