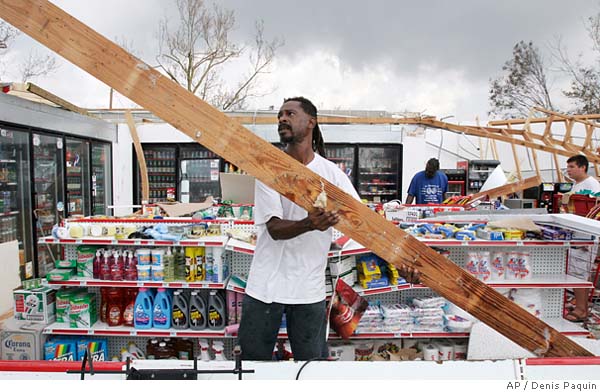 by Tom Hughes, Vice President – Small Business Product Management, AT&T
Four years ago, a storm developed in the Caribbean. What started as a tropical depression quickly turned in to a super storm. Two days later, Hurricane Sandy smashed into the Caribbean and then the East Coast of the United States.
Devastating events happen every day — hurricanes, floods, tornadoes, wildfires and otherwise. Businesses, especially small businesses, need to prepare for disasters. 
With more than 25% of small businesses experiencing a significant crisis each year,1 don't be guilty of the "it won't be me" mentality. Make sure you have an emergency plan. The Insurance Information Institute reports nearly two-thirds of small businesses don't have an emergency plan.2
The anniversary of Hurricane Sandy and the recent impact from Hurricane Matthew are reminders to take the time now to create or review your disaster preparedness plan. Remember, the impacts are not limited to natural disasters like hurricanes, wildfires, tornados and flash floods. We're also talking about power outages and cyber breaches.
Small business owners should follow these steps to prepare for and help protect themselves from an unexpected disaster:
1. Identify critical assets.
List the items that, if lost, would disrupt your company most. Lost or destroyed assets like servers or inventory may hit you the hardest. Revisit your insurance policy. See if it provides enough coverage. Make copies of key documents and store them in a fireproof safe deposit box offsite or virtually in the cloud.
2. Safeguard business data.
Always back up critical data like customer information, transactional and operational data. Make sure they're up-to-date. Mark your calendar, and do this once a month or once a week, depending on how often you update information. Consider a cloud-based data backup service. This prevents physical harm to data and helps access information remotely if you have to evacuate.
3. Protect your team.
Have a plan. Communication with team members in an emergency is key. And make sure you have a contact number for after hours. You'll want to be sure they're safe. Depending on the size of the staff, you can use a simple group text message. Or, use a texting or email service for a larger group. Keep first-aid kits, fire extinguishers and other emergency supplies available and easy to find. Train employees on how to use them.
4. Support your customers.
Reassuring your customers is essential. Your plan should specify who will handle critical roles like contacting customers, vendors and service providers.
5. Plan how to run the business.
Know how you will maintain operations if the business can no longer operate in its current location. Determine how customers will contact you if you can't use your location. Forwarding your calls to a wireless phone will help keep your business connected.
6. Explore technologies to maintain operations.
Along with data backup, consider tools that can help you keep your business running. Cloud-based services could be the key to keeping your business going by providing access to important information from virtually anywhere.
7. Share your plan.
Share the final plan with employees and key stakeholders. Review the details so they know how it was tested and when it will be updated.
Make sure disaster preparation is part of your business strategy. Proactive planning now can help you protect your company for years.
Tom Hughes, Vice President – National Business Marketing leads a team of 90+ professionals developing marketing the solutions for AT&T's 3.2M small and medium business customers.