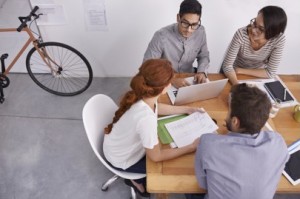 Starting any small business can seem like a daunting prospect, especially when faced with all the little details of what makes a company tick and with minimal resources. From the payroll services for small businesses to the marketing, nothing can be left out when looking to make your big break. So, where do you start with your startup and how can you make the best choice for a more profitable and financially successful future?
1. Finding the needs of the customer and then nurturing them is the ultimate goal of any successful startup. Knowing where the market lies and, better yet, where the market is headed is half the battle. Then it's simply a question of providing this, as yet, untapped need on a mass-market scale, giving the customer what they want numerous times over. That then takes you to what it is that you are providing exactly and how your company can best get a grip on that corner of the market.
2. Learn who your customers are and take the time to get an in-depth understanding of what they want. It is them you are selling to after all, and you need to find clientele who you can most appeal to. This may take extensive research, but it will pay off eventually when cornering the market.
3. The backbone of any organization is its staff, as they're the ones that are keeping it running on a daily basis. Knowing them and where their strengths and weaknesses lie is your best strategy, as you can then play to each of them, working to the best of their abilities.
4. Fostering a working environment and culture with clarity and a strong vision is essential when building an idea of what your business is about. This will then give you a more articulate concept of where you're heading in the future.
5. With a stronger vision of who you are, you should then be able to build a far more precise marketing campaign. This will then allow you to target the customers you want, giving you the reach that will allow your business to grow as a whole. You may have a great product, but it's no good if nobody knows about it, so it's essential that you build a strong marketing strategy.
6. Networking is a key strategy for the future as not only do you want to attract the customers, but you also want to build strong ties with your fellow businesses. Setting yourself up as a serious contender is essential if you want to be seen in a professional light to the world at large.
7. Lastly, you need to always keep moving forward, and don't allow the business operations to sit idle at any one point. Whatever happens, you can't allow things to slow down, as this could have serious repercussions for the future. Innovation is the key here, as you continually want to keep trying new things in order to stay one step ahead of the competition.
These strategies are only just the beginning, as you make your way towards creating the business you want to create. You won't get everything right straight away, but investing time and research into every little detail, however trivial it may seem, is essential. You don't want to leave anything to chance as it could become a bigger problem over time. Organization is the key leading you to not only create a stronger, more structured plan, but also a vision of the company that's right for you.