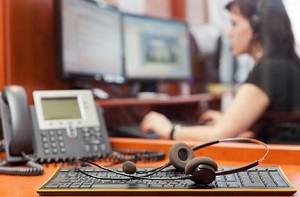 The world is changing, and the way you do business should evolve as well. Voice over Internet protocol, or VoIP, is a revolutionary way to potentially increase your business's productivity and save money on bills.
Here are some of the top benefits of using VoIP in your business:
What is VoIP?
If you've never heard of VoIP, the term can be confusing. However, it's relatively simple to understand. VoIP is simply the ability to receive phone service through the Internet, rather than from a traditional phone company. Now that you know what VoIP is, here are some ways that the service can benefit your business.
Save Money.
For many business owners, the most important benefit of investing in VoIP is the ability to save quite a bit of money on phone service. If you're running a young startup, saving money is probably one of your top priorities. Don Burns, chairman of the board of directors at magicJack, understands how important it is for businesses of all ages to save money on telecommunications. He advocates VoIP for its incredible potential for telecommunications savings, among its numerous other advantages. Traditional phone service companies have to raise prices in order to keep up with the infrastructure, so if you're looking to save, consider investing in VoIP services.
Personalized Business.
Connection with business partners, employees, and customers is more possible than ever with the prevalence of social media and VoIP. When face-to-face communication isn't possible, video chat is the next best option. If you're using VoIP on a laptop while traveling and you'd like to set up a meeting with coworkers, you can still get that in-person feeling from video conferencing, no matter where you are (as long as you have Internet connection at your destination).
Ultimate Flexibility.
Unlike a traditional office phone, which is stuck at your desk to collect voicemails while you travel, VoIP allows you to enjoy incredible flexibility with communication. Instead of worrying about your office phone while you're away, if you have VoIP services, simply plug in anywhere with reliable Internet connection to continue to receive calls at your normal number. The flexibility of VoIP is what most customers love: it can be used in conjunction with a traditional phone service, so you can have the best of both worlds.
Less Time Wastage.
When you're running a thriving business, you'll likely get a lot of phone calls. With a standard phone service, you'll miss calls if you're away from your office. With VoIP, you have the option of programming more than one device ring when you're getting a phone call. When you're easier to reach, you can potentially save several hours of time per week by eliminating the frustrating problem of "phone tag."
Fine Tune Your Employees.
It's important to work with your employees to improve their performance, and VoIP helps to streamline the process. If you have a new employee to train, you can choose to use a feature of VoIP to coach them through a call with a client and give them real-time advice to increase performance and potentially boost sales.
Simplify Communication.
A bustling office environment often involves many mediums of communication, including faxes, phone calls, and voice mails. To keep better track of all these lines of communication, VoIP allows you to receive faxes and voicemails to your email inbox to easily keep track of everything you need. When important faxes and voicemails are contained in your inbox, there's less risk of losing track of them, and they're all organized by date to keep things as simple as possible.
Easily Scalable.
If you're a new or growing business, it's often impossible to accurately predict how many phones you'll need in the future. Instead of eating through the budget by purchasing too many phones that might not even be used, VoIP systems allow you to quickly and easily manage the number of lines you need.
User-Friendliness.
Traditional phones seem to be a staple of office life, and it's understandable if you're a bit skeptical of using an up and coming system. However, VoIP is more user-friendly than you might imagine. Once you get the hang of using VoIP, you'll likely be so hooked on its special features and flexibility that you'll never want to go back to a traditional phone system. Its portability alone makes it appealing for office workers who are often on the go, but its additional features like conference calling, call coaching, and call transfers make VoIP a top choice for all office environments.
Conclusion.
VoIP is an up and coming method of advanced communication designed to help you streamline your office procedures. We're all looking for ways to make life easier while easier while saving money, and VoIP can do this for your business. Whether you're often on the go for work and you'd like clients to be able to reach you at the same number no matter where you are or you'd simply like to enjoy potentially huge savings from transitioning away from standard phone services, VoIP has incredible features and value to add to every office, from small startups to well-established companies.