by Danella Yaptinchay, managing director of Full Suite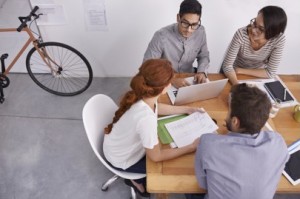 Getting a business off the ground is not the end of a business person's problem. In fact, this is only just the beginning.
Once the business has been set up and completed the necessary steps for business registration in the Philippines, there are a lot of other things the business owner needs to do. Besides running the company efficiently, he or she has to make sure that it is soaring. Otherwise, the company would just live on a day-to-day basis.
As a company lives for continuity, accomplishing a business permit renewal is a regular milestone as well.
Further, making your business stand out from the competition is something that is always at the back of your mind as the owner. Below, you will find some effective ways to do this.
1. Make your mark.
There's an adage that "a business with no sign, is a sign of no business." A business has to have a sign, which points customers to their shop or their office. This is the physical manifestation that you, not only have a business but that you are there to help people by selling a product or providing a service. Ultimately, it shows that you are also proud of what you have accomplished.
2. Have a logo or a slogan.
Having a catchy logo or slogan can help people easily remember your company. Keep your business visible and always in the mind of your customers. Effective slogans can be earworms ringing and echoing inside their heads. Remember, the better the customer recall, the higher the chances of having repeated sales.
3. Breathe your mission, live your vision.
Keep your mission and vision statement printed and placed at a strategic location where your customers can easily see them. As your mission statement reminds you of the primary reason for starting the business, this should always be on your mind when you work. Your customers should not only read this but also see it in the way you work.
On the other hand, your vision statement indicates where you want to be in the near future. Your customers should share in that vision and see that it truly is the right direction where the company is going.
4. Go on social media.
Create an internet presence and share this on social media. Keep promoting your site (and your company) by sharing articles related to your business or can be of interest to your customers. Grow your social media presence by interacting with your followers. You can achieve further growth by going to other social media sites.
You can start with a page on Facebook, followed by Instagram, and then Twitter. You can also further expand on Google+, LinkedIn, and Pinterest.
Internet marketing is a technique that complements your bricks and mortar store. So, remember to maintain a regular stream of high-quality posts that greatly interest your followers. If you have a site, make sure to keep it interesting as well, so that your followers would want remain updated with your web content and products.
5. Find your clients.
Cold calls or cold canvassing is not for everyone. However, it gets easier with an internet presence. You can achieve a stream of first-time visitors with a very visible presence online. You should also try to create a buzz by coming up with compelling campaigns on social media.
Your followers can then share These highly engaging posts, and even give you more followers from their own pool. With succeeding posts, you can entice your followers to go to your website. Asking them to sign up for a newsletter or be keep updated when you have new products can be done much easier as well when they are already on your site.
After going through the all the requirements that come with starting a company, there is never any guarantee that it will take off. Then again, if you have a business which has a steady funnel of clients, then you are in a good position for growth.
Understanding that there are a lot of ways to promote your business, at least, relieves some of the pressure to reach out to new customers.
Danella Yaptinchay is the managing director of Full Suite, a service company providing back end support to small businesses. She is a cofounder of Co.lab, a coworking space, and of the media company Homegrown.ph. In constant pursuit of balance and self-development, she tries to apply the practices of yoga to her daily life.