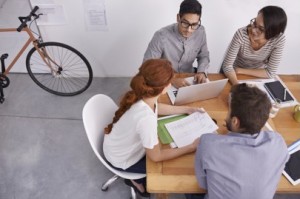 Consultants may not be right for every company, but the proper expert can be ideal for many purposes within a small company. Startups can benefit especially well from a consultant's ability to determine unmet needs and proper direction through at least seven practices.
Accomplishing Specific Tasks.
It can be very helpful for a company to get something big off of its plate by using a consultant for a very specific task, so that there is a clear goal and a way to determine failure or success. Once this task is completed, the consultant leaves the company in a better place, with less work for management to worry about.
Providing Coveted Time for Hiring.
A consultant can offer the extra effort you need to get over the hump, filling a role until you can hire for a specific position. This helps fill a gap so you aren't rushed through the hiring process. The consultant fills in as temporary staff, and if that job is done well, you might even use him or her in your recruiting process to help find the ideal "replacement."
Presenting an Outside Diagnosis.
The average consultant might spend roughly half of his or her time in discovery, or getting to know your company. Then, research is performed to better understand the market and competition before a recommendation is shared to provide directional help. It is this process and outside opinion that really makes a consultant's advice important; if you are trying to think outside the box when it comes to reducing mistakes and taking advantage of opportunities, then you will want the perspective of an unbiased professional who has no emotional ties to the status quo.
Supplying Specific Expertise.
Startups cannot afford to hire full-time employees with every kind of skill they might need. Small businesses need to hire the experts they need on a flexible schedule. Since consultants work with more than one client at a time, it is easy for them to focus on your company when you need their abilities, then work with another client once your needs are met.
Building a Network of Resources.
As a business professional, you know how important networking is. Consultants such as those at Ruota Consulting can supply a whole new group of professionals and resources that you most likely don't have access to. Because consultants are driven to succeed before you are in the picture, they will already have many valuable outside experts and resources to bring to your company.
Supporting Optimization.
There are probably plenty of things in your company that could be done better or more efficiently. It is especially important for fast-growing businesses to concern themselves with procedures and processes, because such things often go to the wayside in the midst of working to stay afloat during rapid growth. A consultant can pinpoint areas for improvement and offer solutions without wasting a lot of your time. Doing this on your own could take hundreds of hours of meeting and brainstorming time away from other tasks for your company.
Furnishing Temporary Services.
The point of a consultant is to provide temporary outside expertise. Expect your consultant to set up a consulting agreement that lasts for a quarter or two. Many consultants will set up a specific timeline so that once a project is wrapped up, matters are concluded on a firm and positive note. You will usually have the option to renew a contract for the next project at the end of the initial three to six month period.
Find a consultant who comes highly recommended, and conduct interviews to ensure that the consultant will work well with you and your company. You are looking for someone who naturally fits with your needs, so you can probably trust your intuitive feelings. Establish a budget based on fixed percentages of profit and then look for a consultant who will perform the services your company needs within your price range. There are many consultants out there, so do some research to find the best one for you.