Entrepreneurs And Small Businesses Thrive With These 5 Tech Tools
by Eyal Shinar, CEO & Founder of Fundbox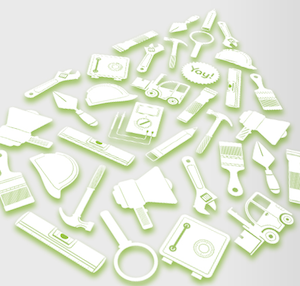 Everything big must first be small. The largest, most successful businesses today were once small, start-ups with grand visions. Giant tech companies like Google, Amazon and Apple all started out in garages or in someone's basement and now each boast hundreds of billions in market capitalization.
As a small business owner and entrepreneur, it is easy to get frustrated and discouraged when faced with daily obstacles as you try to scale your business. Small businesses face numerous challenges and according to a U.S. Bank study, 82 percent of small businesses fail. Of the many challenges that contribute to a small businesses' failure, 60 percent of small business owners cite cash flow as the main reason.
In addition to cash flow, operational and organizational challenges often have a bigger impact on small businesses than larger companies as they typically have fewer resources at their disposal.
There are currently new technologies and digital tools that are boosting growth and simplifying the day-to-day tasks for small businesses. With these innovative tools, small business owners are able to streamline processes, making it a whole lot easier for workers to be productive and for start-up businesses to thrive and grow and to stay competitive with larger companies.
While there are numerous technologies available to small business owners, there are five tools in particular that, when correctly leveraged, will almost certainly help your business get one step closer (or 100 steps closer) to reaching its full potential:
These days, it's not uncommon for companies large and small to be completely distributed, i.e., have a wholly remote workforce.
If you find yourself managing a virtual workforce, modern communications tools like Slack allow team members to stay connected with one another, wherever they happen to be. A web-based collaboration tool that's now valued at $2.8 billion, Slack integrates all of your team's communications, storing them in the cloud in a way that makes them easily searchable across all devices. With Slack, workers can communicate synchronously or asynchronously, depending on their schedules.
Slack positions itself as an "email-killer" of sorts. In addition to keeping your virtual team more close-knit, the collaboration tool will also help your staff be more productive, as team members will spend less time looking for data and more time getting things done.
Whether it's heading downtown to meet a client, flying across the country to attend a conference or just simply heading to grab a cup of coffee, many entrepreneurs and small business owners — as well as their employees — are constantly on the go.
The good news is that today's workers don't need to be chained to their desks between the hours of 9 a.m. and 5 p.m. to be productive. By making use of collaboration platforms like Box—a cloud-based service that allows you to store and edit your documents, granting permissions to those who can do the same — your team will be able to securely access the documents they need to be successful from any device, no matter where they find themselves.
Do you or someone on your team repeat tedious tasks on a daily basis? If so, it might be time to take a look at Zapier, a tool that integrates apps to automate mundane processes.
For example, let's say once a new blog post goes up on your WordPress site, one of your employees is charged with the task of creating that same post on HubSpot. Rather than wasting his or her time, Zapier can be configured to automatically create the HubSpot post once the piece is live on WordPress.
Keep in mind that Zapier integrates more than 400 apps, so you're virtually guaranteed to streamline a bunch of processes when using it.
Cash flow problems — whether they're short-lived or recurring — more or less come with the territory of being an entrepreneur or a small business owner. Still, companies need access to capital in order to grow. That's because today's business world moves faster than ever, and organizations need to be agile in order to adapt to it quickly.
Rather than waiting for your clients' checks to come in — and postponing your business goals while you scramble to find money in the interim — you might want to consider using an cash flow optimization service like Fundbox. Fundbox leverages Big Data analytics, engineering and predictive modeling to give small businesses credit-on-demand that is accessed through its existing account software so that the point of workflow is never disrupted. For a small fee that's repaid over 12 weeks, Fundbox gives you access to the money you need, to grow your business right away. With cash on hand, your business can be flexible and responsive — and you won't have to beg your clients to pay their bills.
A web-based project management tool, Trello is a powerful collaboration platform that allows teams to tackle projects of all sizes with ease. Here's how it works: Users are assigned to "boards" on which "lists" are placed (a theoretical board for a design team might feature lists called "ideas," "to-do," "doing" and "done," for example.) "Cards"—which signify individual tasks—can then be added to those lists. As projects progress, users can move cards from list to list. Trello is easily searchable and can be accessed from any connected device, so nothing gets lost in the mix.
Due dates can be assigned. Labels can be attached. Conversations can be had. And because of the platform's robust notification system, virtually nothing that gets done on Trello goes unnoticed. Everyone stays on the same page—no matter where they happen to be.
While the role of an entrepreneur or small business owner is certainly riddled with inevitable challenges, there are ways to more seamlessly overcome them. With these tools and many other new technologies, key pieces of your business become more manageable which in turn enables you to focus your time and energy on growing your business rather than dealing with operational stress.
Eyal Shinar is an expert in financial services and technology management. Prior to his current position as CEO and Founder of Fundbox, he served as a Vice President at Battery Ventures where he led many projects and investments in the areas of finance, machine learning, SMBs and SaaS. Additionally, Eyal was one of the first employees of Old Lane, a $5.5B NY based global hedge fund (later acquired by Citigroup), and also worked for Castle Harlan, a leading $6B NYC-based buyout firm. Eyal earned his MBA from The Wharton School of Business at the University of Pennsylvania.

This is an article contributed to Young Upstarts and published or republished here with permission. All rights of this work belong to the authors named in the article above.