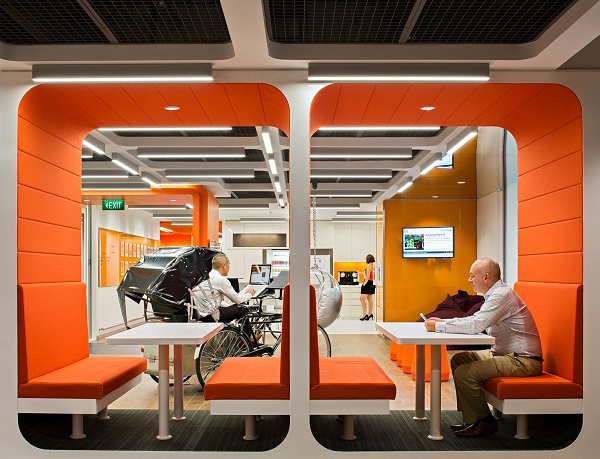 Researchers have repeatedly proven that the look and feel of an office environment can have a huge impact on worker productivity, focus, and the quality of work produced. You've probably experienced this phenomena yourself after cleaning and reorganizing your office.
While completely renovating an office space to look like a luxury-laden executive suite can be quite costly, you won't have to break the bank to make a few major changes that will facilitate a more productive work environment.
For starters, consider the following three economic office revamping tips:
1. Build a Custom Desk or Workstation.
Even Amazon, one of the largest and most successful e-commerce giants, uses custom desks built out of standard solid-core doors with attached legs. These minimalistic desks save the company money in the long-term while also conserving space, yet still perform their intended purpose as all-around office desks.
Since you probably won't be building hundreds of desks for your company like Amazon did, you can take your DIY efforts one step further and construct a custom workstation from cheap lumber and parts from the local hardware store. If you already have an expensive desk, consider liquidating it and using the proceeds to build a super productive workstation.
Not only will your custom desk/workstation be precisely tailored to your preferences, it'll also enhance productivity by invoking a sense of achievement every time you're working and are reminded of the fact that you built such an awesome desk yourself.
2. Upgrade or Repair Devices and Appliances.
We all want to buy the newest and best components for the office when renovating. After all, if you're going to be "revamping" something, why not do it big, right?
Still, it's always wise to adhere to a budget and exercise frugality wherever possible, especially if you're trying to revamp an office space economically. Thus, if you have some old devices laying around that aren't working properly, consider having them repaired instead of investing in new equipment.
Sometimes minor repair expenses can keep you from spending hundreds or even thousands on new equipment. This is especially true for more expensive office components like printers or company desktops. For example, if you have an old HP printer laying around that only needs one part replacement to start working like new again, why not opt for some cheap printer parts – such as the ones that you can find here – and a minor repair before spending the money on a new unit.
3. Switch to Hard Floors and Open Windows.
Studies have also shown that clean air and natural sunlight boost productive mentalities in workers. Carpeted floors can quickly become filthy harborers and distributors of dust, dirt, debris, and allergens that, when ruffled up beneath your feet, continually put off small particles and bad odors, both of which are bad for air quality and productivity.
While switching to marble floors or paying someone several thousand to lay tiles might not be very economical options, it is possible to lay down cheaper hard floor alternatives like linoleum.
Furthermore, these cheap hard floor sheeted materials come in a variety of design types that can impressively imitate the look of hardwood, tiles, marble, granite and other more expensive hard surfaces. Overall, tearing the carpet out and laying down some linoleum or vinyl flooring should only cost a couple hundred in materials and one day's work for most small office spaces.