by Dr Geoff Crook, co-author of "The Dream Cafe: Lessons in the Art of Radical Innovation"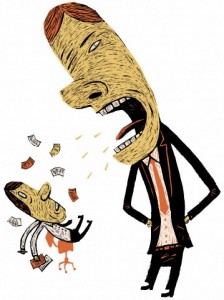 There's a downside to old school belligerence that hard to detect. At first encounter belligerent people appear to possess many of the attributes of success that self help books for the insecure encourage. Successful entrepreneurs like Donald Trump, or Steve Jobs seem to confirm that an ability to override their own and other's capacity for respectful behaviour is an important personality trait for the ambitious.
In the 'dog-eat-dog' world of entrepreneurial endeavour where risk and no-holds-barred' competition are rife belligerence can easily become normalised.
The essential characteristics of the contemporary entrepreneur include the need to be assertive and full of confidence, self belief and tenacity and this can easily evolve into bullying and indifference to the needs of others.
These assertive characteristics are likely to be amplified among younger entrepreneurs who are faced with the additional burden of overcoming a range of stereotypical prejudices that will include assumptions of inexperience and a lack of commitment.
Faced with the prospect of fighting through the barrage of predictable negativity it is reasonable to assume that at the very least a defensive 'fuck-you' attitude will evolve among those who resent patronisation and refuse to take no for an answer.
Depending on the lifestyle of the individuals involved the cultivation of behaviour and values that border on belligerence will be informed and amplified by their 'frat-culture' conditioning, particularly its 'who-dares-wins' approach to engagement in sport, training, alcohol and sex. For those whose culture has schooled them in belligerence it's hard to see the downside.
As Freud suggested "A belligerent state permits itself every such misdeed, every such act of violence, as would disgrace the individual."
In a global context where liberal values are trumped by extremism cynics argue that 'niceness' is an outmoded response to a value system that is becoming increasingly redundant, failing to protect those who attempt to do the right thing in the right way.
Against this a disenfranchised millennial generation arrived into a world where job prospects were limited, wages were low and hope was something that had to be created from scratch thanks to the belligerent greed of big business led by big banks. The wise have learnt that old-school belligerence is less likely to win friends, customers and influence than respect, networking and collaboration.
The shift from mass and global to local and batch has favoured up-close-and-personal businesses that blend passion with politeness and respect.
All of which raises a question: Can your belligerent need to win coexist with respect for others and better ethics?
As more people become aware that mass production spells mass destruction the rediscovery of collective endeavour, artisan culture and community is empowering a whole new category of business opportunity which we call BENIGN.
The Dream Cafe philosophy is informed by the history of the Avant-Garde and the realisation that disruptive innovation is facilitated by collaborating and conversing with people who disagree with you.
Although the history of the Avant-Garde is full of larger than life, tenacious, self absorbed individuals it is also a location where we can discover that belligerence is not all bad.
While the history of belligerence is loaded with negativity the world would be a worse place if it were not for those few individuals and businesses who BELLIGERENTLY fought against the tide to achieve because they believed in better.
A short version of the upside of belligerence reveals the potential for recasting the devil inside as the source of benign opportunity:
Belligerence is born of PASSION
Belligerence is REFUSING to take NO for an answer
Belligerence is an expression of SELF CONFIDENCE
Belligerence the courage to FOLLOW YOUR DREAM
Belligerence is HOLDING YOUR OWN
Belligerence is an expression of EMOTIONAL CAPACITY
Belligerence is an ability to take control when someone HAS TO
Belligerence is GETTING IT DONE
Belligerence is being prepared to STAND UP for what you believe in
Belligerence is OVERCOMING your INHIBITIONS
Belligerence is SAYING WHAT YOU THINK
Remember that the guardians of the status quo will cast the need to question their authority as a symptom of belligerence while they remain oblivious to the potential of their own intransigence as a symptom of something thats far more divisive, it's PASSIVE BELLIGERENCE.
It's possible to be BELLIGERENTLY BENIGN if you channel your attitude problem into reeducating the gatekeepers by refusing to take their lazy and complacent NO's as the last word on progress.
Dr Geoff Crook is co-founding partner of The Dream Café ltd, a new agency that enables businesses to utilise a unique café culture methodology to dream, develop, deliver and market future proof innovation. He is co-author of "The Dream Cafe: Lessons in the Art of Radical Innovation" with Duncan Bruce.