By Trevor Gnesin, President, Logomark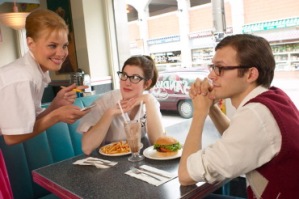 Over the past several years, a U.S. electronics retail giant has been gradually losing ground in spite of reduced competition and guaranteed lowest prices on high-quality products and services. The reason is simple: the customer ranks low on a priority list that places profits at the top. In today's open market, with worldwide economic reforms and the digital revolution, customers not only have the ability to connect to infinite product offerings but also to each other. Word of mouth—good or bad—spreads fast and influences buying trends, while shifting the paradigm to a consumer-driven market.
There's nothing unusual or unreasonable about a customer who considers each purchase of a product or service from a self-centered point of view. After all, they're paying a price. And it should come as no surprise that when customers feel valued they're more apt to remain loyal, even to the point of forgiving a company when a product falls apart. It's likely the reason Ikea continues to surpass high-end home furnishing stores. In addition to transparency, Ikea offers functional and innovative products at a price point many people can afford, and they consistently remind their customers that "It's OK! You can bring it back." A simple reassuring phrase like that not only places buyers in a position of power but also gives a company a competitive advantage by creating a loyal customer base.
On the other end of the spectrum, and for many of the same reasons Ikea continues on an upward trajectory, Apple has built a reputation and a strong following based on quality and service rather than discounts and deals. Apple's superior products and knowledgeable, friendly employees account for long-lasting relationships with customers and the continual acquisition of new ones—despite premium prices for their products and services.
So when it comes to defining the winning combination for businesses to succeed in today's consumer-centric economy, most bank on products that carry both the promise of value for price and superior customer service. American Express recently released its 2014 Global Customer Service Barometer, a report that includes responses from approximately 1,000 consumers over the age of 18 who weighed in on the current state of purchasing trends. Here are some interesting key findings:
The most important factors in the decision to purchase from one company over another are: 1) value for the price (51%); 2) excellent customer service (20%); 3) better products (18%).
Two in five consumers feel businesses pay less attention to providing good customer service.
Three out of four (74%) consumers state they'd be willing to spend more with a company because of a history of positive customer service experiences.
Over two thirds (68%) of consumers state that they are willing to spend on average 14% more with a company that provides excellent customer service.
Today's consumers crave a purchasing experience that is both simplified — online and off — and personalized, with services and products that offer value at the right price. Companies that live up to or exceed these expectations deliver quality products that people want and need, and empower their employees by providing extensive training in customer service and product knowledge. Employees and customer service representatives who can efficiently and effectively handle even the most complicated transactions under challenging circumstances — without the annoyance of leaving a customer on hold or handing them off to a more senior employee — have a significant impact on whether or not a customer returns. A can-do attitude goes a long way, as consumers are far more likely to share with others a bad experience rather than one that was pleasant or uneventful.
A willingness to spend more for great service and value extends far beyond the borders of the U.S. The American Express report reveals that consumers in emerging markets such as India, as well as European countries like Germany, France and Italy are attracted to more than low prices close to home. Time and distance are slowly and steadily losing relevance in today's market where 24-hour turnaround and express shipping at no extra cost lure customers from every corner of the planet.
Customer experience — according to another recent report conducted by Forrester titled, "Banks and Retailers: You Cannot Price Your Way Out of Bad Customer Experiences" — may in fact be more powerful in driving customer loyalty than the idea of value for price. After surveying more than 7,500 individuals across the U.S. regarding customer experience in banking and retail, the report concluded that superior customer service influenced loyalty more than attractive quality-for-price propositions.
Customers' actions and buying behavior ultimately point to the self: "Is this brand, this product, this company putting me first and improving my life by meeting my needs with safe and sustainable products and services?" If the answer is yes, a company may have a customer for life—one who shares the story of satisfaction with family and friends. If the answer is no, they'll invariably find a better fit.
Research indicates that companies spend five times as much to gain a new customer than to keep an existing one. But self-centered consumers are not by nature loyal — nor should they be. Connecting to customers on an emotional level and providing them with a unique experience by proactively anticipating what they need and expect—and exceeding those expectations every time — is the key to establishing a long-lasting relationship. Excellence in service is an attitude adapted by every member an organization, from the CEO to the sales representative. Whether a startup or a seasoned household brand, longevity is more than a promise or a boardroom mantra or a rock-bottom price; it's a deliberate commitment to focus on the customer — at every level and every stage. Money isn't everything and when it is, there's a good chance another giant may be falling.
Trevor Gnesin is CEO of the promotional products supplier, Logomark, and Jorg Gray Watches in Tustin, California, is the driving force behind both successful companies. He is particularly knowledgeable about the promotional products industry, and experienced in dealing with its challenges and goals. Originally a trained fashion buyer from South Africa, Gnesin stepped into entrepreneurship at the age of 19. He operated his own clothing manufacturing business, then eventually transitioned to corporate gifts to fulfill an unmet niche in the marketplace.