By Kerrie Kelly, Kerrie Kelly Design Lab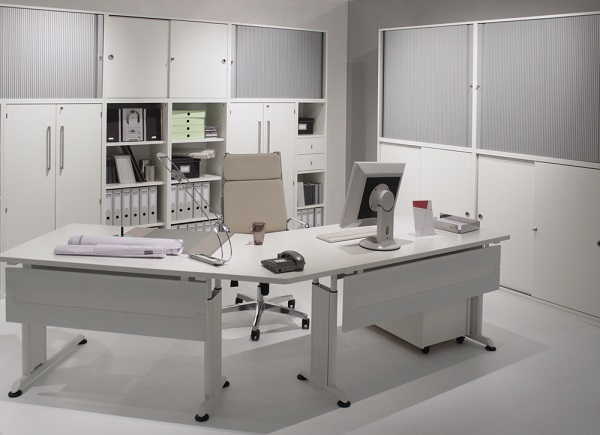 A successful home office is a delicate balance – a little bit home and a little office. In designing my own, "home" definitely came first, but underneath that layer of the look I love is everything I need to get busy.
As a business owner, my hours often go far beyond the traditional 9-to-5, and occasionally require seeing clients at home. Having a space in my home where I can easily and comfortably make that happen is part of what keeps my business running optimally. If your home office isn't quite working, a quick tune-up can get you much closer to a space that performs as hard as you do.
Building balance.
If at all possible, choose a room that's separated from the main living space. This allows you to create that balance – to work when you need to work and relax when you need to relax. If you don't have many options where space is concerned, even just having a door you can shut can create that crucial separation. If you have to look at a stack of paperwork every time you walk to the kitchen, that sense of balance is upset, and work begins to take over your home life.
Working with a tiny space? Consider giving up a closet to a built-in desk and clever storage that you can close behind a door or curtain.
What's on the surface?
Our work often requires that we spread out beyond the bounds of most desks. Take some time to think about the kind of work you really do in your office and make sure you have the room to do it comfortably – otherwise the work becomes a chore. A work surface that wraps around two walls offers ample space and a polished and professional look. Keep it simple and affordable with modular furniture that can be fit to your space, or go luxe with custom cabinetry built with your particular needs in mind. Bonus: The wraparound look is the perfect solution to your cable management issues because the cables never have to come out from under or behind the desk.
Filing Frenzy.
With filing and storage, keep it simple, but be creative. Shelving with baskets — wood, metal or fabric — keeps everything you need on hand but out of site. The uniform look is soothing to a cluttered mind and makes it easier to sit down and get to work. Binders are a great way to handle the paperwork without having to add the industrial look of filing cabinets to your space. You can even color code with simple paper wraps for the binders in colors that complement the space. If you do need significant file storage, consider the closet as a perfect space to tuck away some filing cabinets.
Tech talk.
Phones, computers, tablets, chargers and the cable management issues they come with can really clutter up our lives. The home office is the perfect place to manage that clutter and equipment. A multi-device charging station for all your electronics keeps the juice flowing from one outlet. Laptop computer and tablets are increasingly able to take care of all our computing needs, so consider making the switch, if for no other reason than to cut free from the leash of power cords. And of course, there is no longer any need to buy separate scanners, copiers and fax machine – an all-in-one model can handle all of your paper-to-digital needs. From cord covers for the floor or baseboards to cord wraps or simple hooks to hold the cords out of site, there are plenty of options to keep the cable clutter at bay with very little effort at all.
Love the look.
It's simple – the work won't get done if the office is a room you don't enjoy being in. Make this a space you love. For me, that means neutral colors, a mix of traditional and contemporary furnishings, art that I love on the walls, and lots of personal and professional mementos and photos – even a few flea market finds that make it a more interesting space. A supportive and ergonomic desk chair and a cozy reading chair in the corner, along with plenty of lighting options to transition from work mode to something more soothing, keep my home office versatile. I even occasionally find myself in the office when I don't have work to do, just perusing the photos and reminiscing. My clients feel very at home there, and I've found friends congregating there during parties more than once.
Create a space that feeds you, and you'll find you have the energy and motivation to get the job done.
As a busy interior designer, Kerrie Kelly of Kerrie Kelly Design Lab knows all too well the importance of a home office and the need to feel comfortable and enjoy the space. Kerrie gives great advice for The Home Depot on how to keep the cable clutter down and to mesh home electronics into the design of the office.