by Peter Decker, owner and operator of BizCardXpress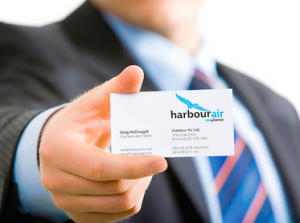 If you run a traditional retail store, you might feel just a little overwhelmed by the fact that online businesses are snapping up more and more of the market share in your industry. It's almost a given – but it doesn't have to spell the end for your company. Many consumers still like the ability to walk into a physical store and touch merchandise.
They want to be able to try on clothes and handle gadgets before they buy. The Internet will never be able to give them that. Here's how to beef up your marketing so that you can out-compete your online counterparts.
Using The Right Sign.
The right business banners and signs can make all the difference. Unfortunately, a lot of businesses don't use good signage. If you've got an old sign – one that is older than 10 years – it may be time to update it.
So, what will a sign do for you? It will help people find you. Many business owners don't realise that their signs are either faded, obscure, or there are letters missing. In some cases, the signs blend right into the building. The purpose of a business sign is to let people know you exist and where you're located. Don't be afraid to be a little audacious and bold. It's only going to get you noticed, and that's a good thing.
Business Cards.
The popularity of business cards has waxed and waned. What hasn't changed, though, is their effectiveness. Now, what used to go on a business years ago was your physical address, phone number, fax, and name. Today, you can cut some of that out. For example, you don't need a fax number anymore unless your business still depends on it.
You might have to add your email and website address, because this is how most consumers expect to be able to contact you.
Flyers.
If your community allows flyers to be placed around town, use them. They're an effective marketing strategy, and they're simple. You don't even have to print them up on professional stock with a glossy cover (though it can't hurt). What's most important about the flyer is your marketing message. So, keep it short, and sweet, and give your message a high-contrast. For example, use black text on a white or yellow paper stock.
Merchandising.
Merchandising, or display advertising, is still an effective way to market yourself. Of course, customers have to walk in the door first – but only if you don't have a display window. In the 1980s, these were common. Stores would set up merchandising displays in the store window to attract customers. Today, marketing teams still rack their brains trying to come up with effective display ads.
The difference is that most displays today are set up inside the store – using counter top displays, for example – instead of in a display window. But, it's a strategy that still works for stores like Target, so don't discount it.
If you're a clothing retailer, for example, you might consider setting up a display that shows off your new seasonal line. Each season (i.e. summer, winter, fall, spring), you change up the display. Mannequins can be rearranged every week to show off or highlight a different ensemble for your guests.
Train Your Sales Staff.
Roughly 76 percent of customers purchase more products based on a sales associate's recommendation. Providing better customer service, therefore, will most likely improve your sales figures. Spend some time training your sales staff on how to up-sell, cross-sell, and gain customer loyalty through incentive programs.
For example, if a customer walks into your store and starts asking about a product, your salespeople shouldn't be so eager to push the customer into that particular product. Instead, your associates should be trained to ask key discovery questions like, "what is it you're trying to accomplish?"
That's a question that will get the customer talking about their problem that they're trying to solve.
So, for instance, if you run a hardware store and a customer tells you that he or she is trying to drill a circular hole with a 10cm diameter, you know that he needs more than a standard drill bit – even if all he asks for is a standard drill and bit.
By asking the customer about his or her problem, your sales associate moves from being just a salesperson to being a sort of advisor – a problem-solver. That's how you win more sales.
Use Mobile Marketing.
Mobile marketing cannot be ignored. Most people shop online before they make an in-store decision. Fortunately, setting up a mobile site isn't that difficult if you hire a web designer or programmer. Your mobile site should reflect the needs of your target market. 

So, for example, if you're a flower shop, your mobile site should have a simplified way to place an order, plus your shop's phone number. That way, customers can order on their tablet or mobile and then come in to pick it up. Everyone's happy – your customer gets a seamless sales experience, and you get the sale instead of a big-box store.
Peter Decker is the owner and operator of BizCardXpress in Kansas City specializing in banner, yard sign and business card printing and graphic design with a 24-hour turn around.