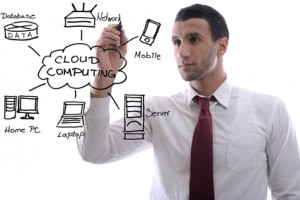 Like it or not, we're in the last few months of 2013. Whether you follow a calendar fiscal year, or use the US Government's example and run your year from October to October, you're either in the first quarter of the new year or the last quarter of an old one.
That means it's time to start thinking about how to improve your business for 2014. We've got five essential tools your business needs for the next calendar year, regardless of where you are in your fiscal cycle:
1. Cloud Document Sharing.
If you're still emailing documents back and forth, with titles like "2014budgetREVISEDfinalJackseditsii," it's time to start living in the cloud. Pick a free service like Dropbox or Google Drive, or work with a cloud storage company to develop a customized, private cloud server just for your business. Then create, edit, and share documents simultaneously, with a clear revision history — no need to rename files "Jacksedits" ever again.
If you're still on the fence, read what The Guardian has to say about why cloud computing is perfect for small businesses.
2. International Phone Numbers.
Does your business have international customers or clients? Then you need at least one international phone number. Yes, your clients can dial complicated country codes to reach you, but that's just one extra step that will prevent them from getting in touch with you when they need you. Work with a service like TollFreeForwarding to set up a network of country-specific international phone numbers that dial locally, then route through a hub to reach your office. Customers, clients, and vendors get to make free local calls, and you get the simplicity of knowing that your office is easy to reach.
3. Tumblr.
Does your business have a Twitter feed and a Facebook account? That's so last year. The microblogging site Tumblr, which began to gain traction in late 2012 and early 2013, is now the "favorite social networking service of Americans under 25," according to TechCrunch.
You can post anything you like to Tumblr, including video, text posts, and links to coupons or special deals, but the site primarily deals in images, which are passed and shared from one Tumblr user to another. Check out how brands such as Instagram, Whole Foods, and Couple integrate their product and brand identities into a personable, professional Tumblr site full of posts that users want to share with their friends.
4. Updated SEO with Google Hummingbird.
Google launched its newest SEO update, Google Hummingbird, this August. This update replaces Google Panda and Google Penguin, and focuses on what is termed "conversational search"; the idea that searching the words "where is the nearest gas station" brings an actual useable result, instead of retrieving documents that contain that particular grouping of words.
This is a huge opportunity for businesses, especially for people who want to focus on local marketing. Read SearchEngineLand's Google Hummingbird FAQ, and then consider hiring a SEO guru to update your metadata and to teach you and your staff how to write web content that lets searchers know that you are the best pizza place in Camden, or whatever specifically defines your unique selling proposition.
5. Updated Security Tools.
If you don't know what "twishing" is, or why hackers are now able to send viruses through legitimate-looking emails that come from your company's accounts, it's time to update your security. If you have an IT staff as part of your small business, talk to them about what they're seeing re: security threats and how to protect hackers from infiltrating your email accounts and servers. If you're working on your own, start reading about new hacking techniques, and learn how spoofed email addresses and twishing websites trick people into giving up your company's information.
2014 is a new year, with new challenges — use these five tools to ensure your company is able to maximize its success.