by Erik Larson, president and founder of NextAdvisor.com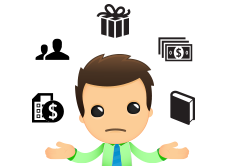 There are myriad challenges in starting a business from your home. Just getting the infrastructure in place to conduct business can seem like a daunting task, much less actually creating a successful operation. Fortunately, the proliferation of cloud services has been a boon to small businesses. Everything from legal services to phone and fax to computer backup can now be done over the Internet. Not only does this make these services more convenient and quicker to set up, but they are also usually much cheaper and easier to use.
At NextAdvisor.com, we've tested and reviewed many of the best cloud services for small businesses.  Here are some of our top picks to get your home-based business up and running quickly and inexpensively:
Legal Services.
The legal aspects of setting up a business can be confusing, and hiring a lawyer can be costly. Deciding on the optimal legal structure can have enormous tax and liability implications down the road, so there are some critical choices to make. Fortunately, online legal services have made the process simple, painless and cheap. These services can help you determine the best structure for your individual situation, then walk you through the set up, file the paperwork and provide you with any additional legal documents you might need, all for a low fixed price.
If you are looking for a more long-term option, some of the services charge a monthly fee for full access to their legal document library and other features, as well as discounts on local lawyers that can help you with any more complicated legal issues you have.
Phone Service.
In most cases, VoIP (a.k.a. Internet phone service) is much cheaper and more efficient than regular phone service. For example, ATT's price for unlimited local and long distance calling for business is $45/line each month, which doesn't include add-ons.  Leading business VoIP providers offer plans for less than $20 month that include a wide range of free features like conference calling, voicemail to email transcription, call-forwarding and call-hunting, and an auto-attendant for answering and routing calls.
The best part is that most of these services don't require a contract so you can cancel or change your plan at any time.
Faxing.
The fax machine seems like a vestige from the ancient technology past that should have gone the way of its contemporaries like the floppy disk and the black and white monitor decades ago.  Yet all too often, either sending or receiving a fax is essential to getting business done.
Luckily, the cloud has eliminated the need for bulky and expensive fax machines. Internet fax services are cheaper, greener and far less of a hassle.  No separate phone line is required (don't worry – you still get your own fax number).  Incoming faxes go directly to your email as PDFs or other file types of your choosing.  You can send outgoing faxes however you like, including directly from documents on your computer, from pictures snapped with your smart phone or scans from your printer.
Financing.
If you walk into a bank and ask for a loan to get your small business started, you're likely to get laughed out of the building. Yet go online and apply for one of the bank's credit cards? If you have good credit, you'll probably be approved. Business credit cards have provided the initial funding to millions of businesses.  The right card will give you both the most rewards for your expenses and a nice 0% intro APR, which functions as an interest-free loan.   One thing to keep in mind, though, is that most of the consumer protections for credit card holders required by the CARD Act, such as limits on fees and increased interest rates, do not apply to business credit cards.  And since you'd have to provide a personal guarantee on your new business's credit card anyway, you may want to consider getting a personal credit card to use for business expenses.
File Backup.
Losing files or even entire hard drives can mean the loss of months or more of hard work, something any new business can ill afford. Online backup is an easy, hassle-free way to keep all of your company's important files in the cloud.  You don't have to purchase any hardware or worry about remembering to back things up.  Your files are securely uploaded to servers in the cloud while you're doing your normal work – it all happens in the background.  Starting at just a few dollars a month, this is cheap insurance for your valuable files.
Web Hosting.
Even if your business has nothing to do with the Internet, potential customers will want to check out your web site, so you should probably have one.   Fortunately, these days web hosting providers make setting up your site simple and cheap.  Even if you don't know anything about web design, many hosts have great web site builders for novices that can help you get a professional-looking site up quickly. And you can do it all for less than five dollars a month, including the cost of buying a domain, which is free with many leading hosts.
Your best choice for a host will depend a lot on your needs, so some good web hosting reviews will be helpful in making the best selection.  At NextAdvisor.com, we looked at the top web hosts and rated them on everything from price to average up-time, about which we've collected over three years of data.
Mailing and Shipping.
Yes, even those dreaded trips to the post office can be replaced by the cloud.  Online stamps services let you buy and print your own custom postage and shipping labels.  Better yet, if you just need to contact your customers, an email marketing service can help you deliver messages for practically nothing.
Starting a business from home is hard, but don't make it harder than it has to be.  Take advantage of the ease of use and cost savings that the Internet can offer for some of the basic services your business needs.  You'll be left with more time and more money to spend on the other things that really matter.
Erik Larson is President and Founder of NextAdvisor.com, a consumer and small business information web site based in Burlingame, CA. Prior to founding NextAdvisor, he was President and Co-Founder of MetaReward, a pioneering online ad network that was acquired by Experian.